Qualcomm's Latest 'Snapdragon 820 v. Snapdragon 810' Benchmark Results Surface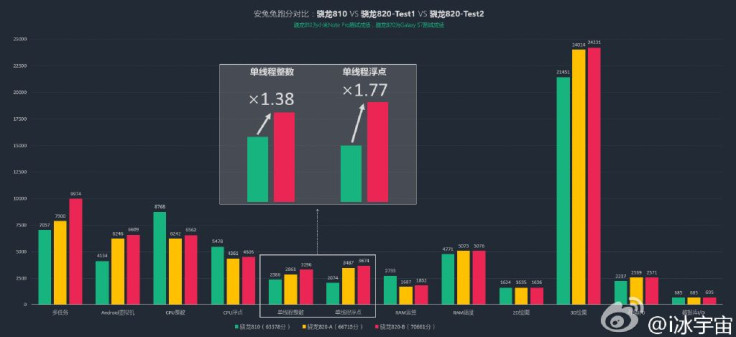 Leaked reports from earlier this month suggested that Qualcomm is fine-tuning the upcoming Snapdragon 820 chip. In addition, it is also being rumored that the chipmaker is gearing up to release a new revision called V3.x, which will be made available to OEMs sometime in October.
Here is a comparison of benchmark results pertaining to the current-generation Snapdragon 810 and the next-generation Snapdragon 820 chipsets.
Based on the report from China, comprehensive AnTuTu benchmark results of Qualcomm's Snapdragon 820 and Snapdragon 810 have surfaced. The results apparently show the processing power of the new Snapdragon 820 and an earlier prototype version of the same chip. The leak also lists out the results based on several processing-related tasks performed by the S810 and S820.
According to the benchmark comparison image attached above, the Snapdragon 810 has apparently been color coded in green. The earlier prototype version of the Snapdragon 820, dubbed for easy reference as S820-A, is color coded in orange, while the latest revision of Snapdragon 820, dubbed for easy reference as S820-B, has been coded in red.
The newly revised version of the Snapdragon 820 (i.e. S820-B) has reportedly scored better across the chart when compared to the earlier prototype version. According to the AnTuTu benchmark chart, the S820-B has tallied 70,661 points while the S820-A and S810, on the other hand, have scored 66,715 and 63,378, respectively.
It is worth noting that the latest Snapdragon S820-B has managed to perform 1.38x and 1.77x times more than the predecessor S810 in the single threaded integer and single threaded floating point tests, according to G For Games. Meanwhile, Phone Arena reported that an earlier leak showed the score of the alleged Samsung Galaxy S7, code named as "Samsung Lucky," running the same Snapdragon 820 version as 83,774.
© Copyright IBTimes 2023. All rights reserved.