Quick Answers To Double Shooting Elude Police In Ferguson, Missouri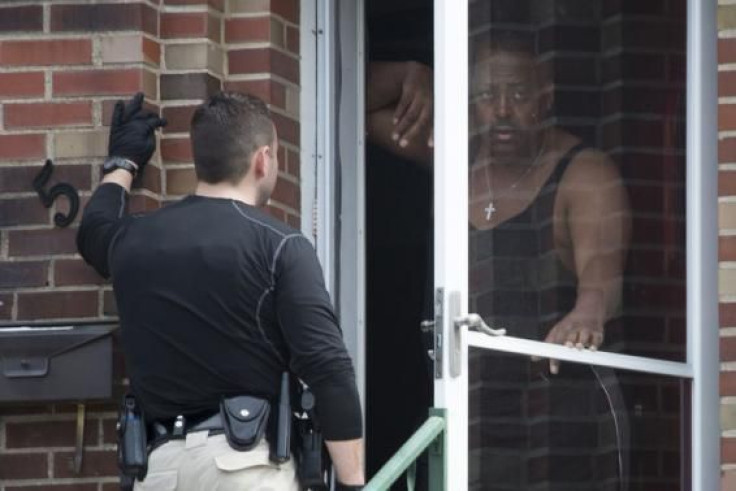 (Reuters) - Nearly 48 hours after two officers were shot in Ferguson, Missouri, investigators had dozens of leads but no arrests to report on Friday in the hunt for a gunman who turned a late-night protest against police into bedlam.
St. Louis County Police Chief Jon Belmar said authorities had "a pretty good idea" where the gunshots that wounded the officers had originated, without providing specifics, but added that an arrest was not imminent.
The kind of gun used, the shooter's motivation and any connection to the protesters remained a mystery, prolonging uncertainty for a town that has come to symbolize America's struggle with race and policing.
The latest bout of violence in the St. Louis suburb, first rattled by the killing of unarmed black teenager Michael Brown by a white officer last summer, brought out signs of sympathy for police on Friday.
One protester stood opposite the Ferguson police department with a sign reading "Cops Lives Matter," playing on the "Black Lives Matter" slogan that sprang up in the wake of police killings of unarmed black men in New York City and elsewhere.
Belmar said donations for rewards to help the investigation had poured in over the last two days.
The desire of some to move on from months of racial strife and protests played out in a chilly evening rain in front of the police department on Friday, where a dozen mostly white residents stood holding signs reading "I [heart] Ferguson."
"Obviously we have a lot of changes to make, but we're very resilient and committed to do what's right," said Susan Ankenbrand, 72, a tour guide in St Louis and Ferguson resident for 40 years.
"But we want to put another face on our community."
Though others, like The Organization for Black Struggle Executive Director Montague Simmons, are determined to continue the near-daily demonstrations.
"Some people are sick of it, sure," Simmons said. "At the same time, others want us because of the change we bring."
To that end, five residents signed an affidavit at Ferguson City Hall Friday afternoon to start a petition for Mayor James Knowles' recall, according to a statement from The Organization for Black Struggle.
Residents will have 60 days to gather signatures from 15 percent of registered voters in the last mayoral election to prompt a special election, the statement said.
MAYOR STANDS FIRM
Ferguson's police chief, city manager, municipal court judge and two police officers have resigned since the U.S. Justice Department released a damning review last week of the police force in Ferguson, where a majority of residents are African-American and most of the police are white.
The report found that the force overwhelmingly arrested and issued traffic citations to black residents, creating a "toxic" environment with its policing practices.
But Knowles said on Friday that it would be up to voters to remove him.
"Somebody here has to be left standing to make sure the government continues to operate. There are ways to get rid of me as mayor," Knowles said in an interview with National Public Radio.
Knowles, whose job as mayor is part-time, told NPR, "I'm giving it every last measure at this point and I will continue to do so, as long as the citizens will have me."
In Thursday's shooting, a 41-year-old county police officer suffered a shoulder wound and a 32-year-old colleague from a nearby police department sustained a facial wound that left a bullet lodged near his ear. Both were treated and released by a local hospital.
The shooting of the officers came less than three months after the killing of two New York City patrolmen by a troubled man who said he was seeking to avenge the deaths at the hands of police of Brown and Eric Garner in New York.
The latest turn of events threatened to undermine an incipient recovery in the town of 21,000, where an injection of funds has helped small businesses rebuild after two spates of looting and vandalism last year.
President Barack Obama and Attorney General Eric Holder, who both have been critical of city leaders and police in Ferguson, called the assailants "criminals" and "punks" on Thursday.
(Additional reporting by David Bailey in Minneapolis, Fiona Ortiz in Chicago; Writing by Frank McGurty, Mary Milliken and Curtis Skinner; Editing by Ken Wills & Kim Coghill)
© Copyright Thomson Reuters 2023. All rights reserved.