Obama Condemns Ferguson Shooting Of Two Officers, Protests Continue Near Police Department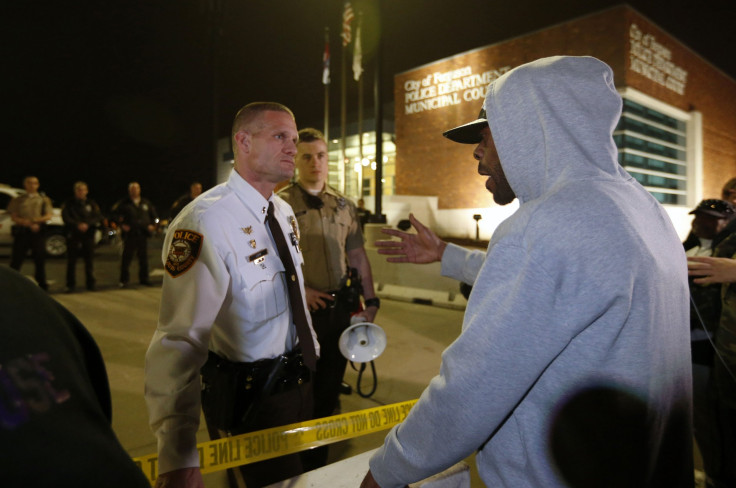 Update as of 6:10 a.m. EDT: Police officials continued a manhunt for the second day to find those responsible for the shooting of two police officers around midnight Wednesday in Ferguson, Missouri. Investigators searched the streets near the scene of the shooting while several people were brought in for questioning, Reuters reported.
The people questioned were released later and no arrests were made, the report added. Meanwhile, candle-light vigils continued in the area as people prayed for the quick recovery of the two officers even as protesters remained mostly calm Thursday night.
Original story:
U.S. President Barack Obama condemned the shooting of two police officers in Ferguson, Missouri, around midnight on Wednesday, on the Jimmy Kimmel Live, which aired Thursday. Obama's comments came even as protests continued outside the police department building in the St. Louis suburb.
"What had been happening in Ferguson was oppressive and objectionable and was worthy of protest, but there was no excuse for criminal acts," Obama said on the show, according to the Associated Press, adding: "Whoever fired those shots should not detract from the issue — they are criminals, they need to be arrested."
The White House had expressed its condemnation of the shootings on its Twitter feed on Thursday.
"What we need to do is make sure that like-minded, good-spirited people on both sides — law enforcement, who have a terrifically tough job, and people who understandably don't want to be stopped and harassed just because of their race — that they are able to work together to come up with some good answers," Obama said, on the show.
Meanwhile, over 100 demonstrators gathered near the Ferguson police department building on Thursday night and blocked a road nearby, while about 20 police officials asked the protesters to leave, NBC News reported. The protesters were chanting slogans like, "the whole damn system is guilty as hell," a day after the two police officers were seriously injured by gunshots.
"Whoever was the culprit last night did not come from this community," Rev. Traci Blackmon said, at a vigil held for the injured officers, according to NBC News. "We will not be moved. We will not give up," she added.
St. Louis Regional Crimestoppers, a local organization, reportedly offered a reward of $10,000 for information that could lead to the shooter or shooters, while police in Missouri said that it is their first priority to find those responsible.
"This heinous assault on two brave law enforcement officers was inexcusable and repugnant," U.S. Attorney General Eric Holder, who had led the Justice Department's investigation into Ferguson's law enforcement system, said in a statement Thursday, adding: "I condemn violence against any public safety officials in the strongest terms, and the Department of Justice will never accept any threats or violence directed at those who serve and protect our communities."
© Copyright IBTimes 2023. All rights reserved.