Rachel Canning, New Jersey Teen Who Sued Parents For Child Support, Gets $56K Scholarship To Western New England University [PHOTO]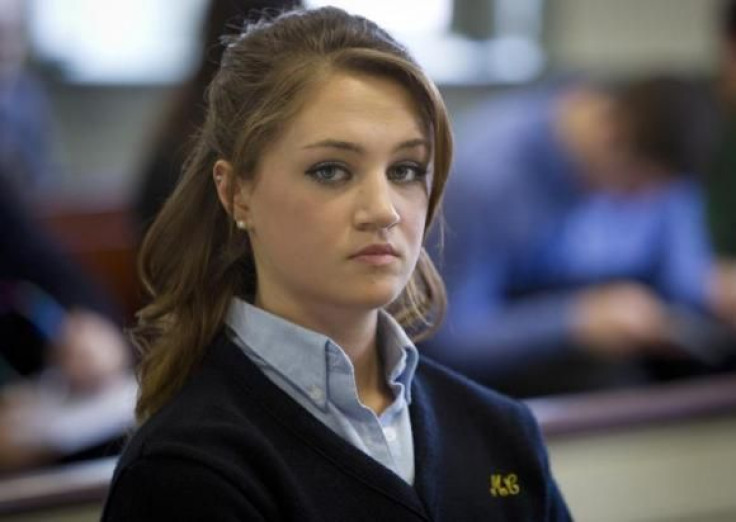 Rachel Canning, the New Jersey teen who spurred outrage for suing her parents for child support and college tuition, has landed a $56,000 scholarship to Western New England University.
Canning, 18, dropped the lawsuit last month after a judge denied her request for living expenses and moved back in with her parents, Sean and Elizabeth Canning. Some called her a spoiled brat for moving in with a friend and filing a lawsuit Feb. 24 in Superior Court in Morristown, N.J. She announced March 30 on Facebook that she plans to major in biomedical engineering at Western New England University in Springfield, Mass.
"Decision made. WNE U class of 2018 BME Major w/ 56,000$ (sic) scholarship," the post said, according to the New Jersey Star-Ledger. The post received 145 likes before it was restricted to the public at about 1:30 p.m. Tuesday, the newspaper said.
Canning claimed in a lawsuit that her parents threatened to cut her off financially if she didn't break up with her boyfriend and abide by their rules. She sought $654 per week in child support and demanded her parents pay her private high school, college tuition and legal bills.
The lawsuit also claimed that Canning developed an eating disorder because her mother called her "porky" and "fat," the New York Post reported. Meanwhile, her parents accused her of skipping school and drinking alcohol with her boyfriend.
A New Jersey judge dismissed the lawsuit at the teen's request and said she "is obviously an intelligent young woman who has a bright future." The judge urged the teen and her parents "to look forward and not look back."
A Western New England University spokesman confirmed to New Jersey's Daily Record that Canning was accepted to the school. While the university declined to disclose the scholarship amount, citing federal privacy laws, a spokeswoman did discuss in general its scholarship policy.
"To be clear, Western New England University routinely offers merit scholarships to incoming freshmen based on academic achievement," Barbara A. Moffat, the university's vice president of marketing and external affairs, told the Star-Ledger. "These scholarships range from $5,500 to $16,500 annually and are renewable for four years -- as long as a student continually meets certain academic benchmarks. Therefore, these merit scholarships can total between $22,000 and $66,000 over the course of four years. These scholarships are awarded to all incoming freshmen who meet the academic criteria, independent of financial need."
© Copyright IBTimes 2023. All rights reserved.