Rand Paul 2016 And The Black Vote: Will His Presidential Campaign Benefit From His Overtures To African Americans?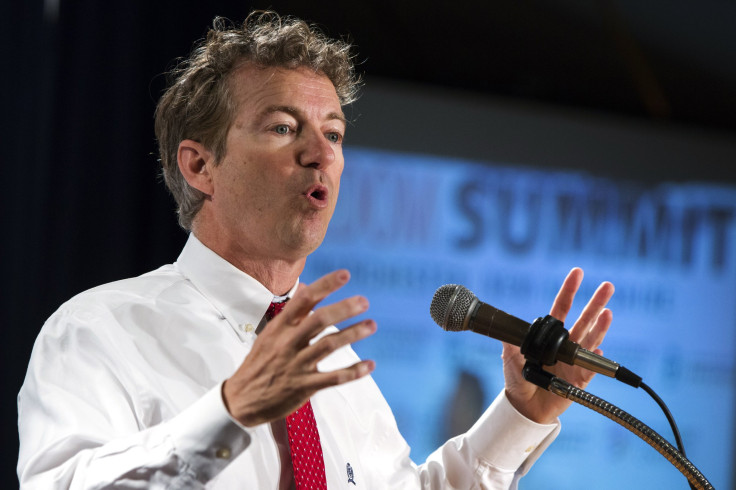 When Rand Paul kicks off his campaign for president Tuesday, the Kentucky senator will be in a unique position among the likely -- and crowded -- Republican field. As a libertarian, Paul has advocated for criminal justice reform and has ventured into uncharted territory for most Republicans by appearing in black communities throughout the country while his potential rivals haven't even tried to make inroads with black America.
But despite his overtures to blacks, Paul is up against a long history of African-Americans who overwhelmingly vote Democratic. In 2004, the last presidential election where Barack Obama wasn't on the ballot, Democratic nominee John Kerry captured 90 percent of the black vote, and 2000 Democratic nominee Al Gore got a similar percentage.
"I think what he's doing has potential long-term benefits, but I don't think that'll necessarily materialize into any type of advantage in this election cycle," said Andra Gillespie, a political science professor at Emory University in Atlanta. "This is a long-term strategy. You're going on two generations of perceptions of the Republican Party being racist."
By pushing for bipartisan criminal justice reform, reduced sentences for petty crime and speaking out against the militarization of police, Paul is both indicating that it's a smart strategic move for the Republican Party and trying to signal that he's a viable candidate in 2016, according to Jason Johnson, a political science professor at Hiram College in Ohio and politics editor for the hip-hop magazine the Source. But Paul is unlikely to win the Republican nomination because he can't match the fundraising juggernauts of former Florida Gov. Jeb Bush and Wisconsin Gov. Scott Walker, Johnson said. "That makes it difficult for him to demonstrate how well he can be with African-American voters," he said.
In some cases, Paul's outreach to the black community hasn't exactly gone smoothly. In an April 2013 speech at Howard University in Washington, D.C., his address became awkward when he asked his audience if they knew that the founders of the NAACP were Republican; they replied that they did. "You know more than I know. And I don't mean that to be insulting. I don't know what you know, I mean, I'm trying to find out what the connection is. But the thing is, is that I think … the Republican Party hasn't talked enough about the great history and interaction between the Republican Party and black history and voting rights in our country," he said, calling it an "uphill battle" to convince blacks that the GOP hasn't changed since Abraham Lincoln, the first Republican president, emancipated the slaves in 1863.
Furthermore, any gains Paul might make with African-American voters could be erased if top GOP leaders make controversial statements on race during the campaign. "It's going to take discipline within the party of making sure individual Republicans don't make racial gaffes that gain national attention," Gillespie said. "It's fine when Rand Paul [reaches out to blacks], but if all of a sudden a congressional staffer or a national party chair makes a comment that ends up going viral, it offsets the efforts that Paul is making. Despite Rand Paul's efforts, the party is not viewed as a party that's progressive."
After the Howard speech, Paul continued to step up his appearances in minority communities, including stops in Detroit, Atlanta and Ferguson, Missouri, where unarmed black teenager Mike Brown was shot and killed by a white police officer last August in an incident that stoked racial tensions. In a November op-ed in Time magazine, Paul linked Brown's death to the militarization of police and a criminal justice system that hasn't worked for blacks. "If I had been told to get out of the street as a teenager, there would have been a distinct possibility that I might have smarted off," he wrote. "But, I wouldn't have expected to be shot."
In February, Paul teamed up with Senate Minority Leader Harry Reid, D-Nev., on a bill to give nonviolent ex-felons the right to vote in federal elections. Minorities make up 60 percent of the prison population and one in three black men is likely to end up in prison during his lifetime, according to the Sentencing Project.
Paul's message to black America may benefit him in a general election, but first he has to win the Republican nomination in a field expected to have a dozen candidates. Few blacks are registered Republicans, and only 4 percent of African-Americans identified themselves as Republicans in a 2004 survey by the University of California at Berkeley.
Even within that small percentage of black Republican voters, it's not a given that Paul will win them over. For instance, black evangelical voters are more likely to support social conservatives like ex-Arkansas Gov. Mike Huckabee, Walker or Texas Sen. Ted Cruz, according to Gillespie, while Bush will appeal to black voters who prefer an establishment candidate.
Time is not on Paul's side if he were to win the nomination, either, with blacks strongly supporting the Democratic candidate in every presidential election since 1960 "because of the civil rights movement and the legacy of people like [President] Lyndon Johnson pushing for civil rights," Gillespie said.
Eventually, Republicans are going to have to take up Paul's calls to speak to the black community on criminal justice reform and explain how their issues affect black communities if they want to win future elections. "The Republicans are going to have to come to grips with the consequences of the 1950s," she said.
© Copyright IBTimes 2022. All rights reserved.
FOLLOW MORE IBT NEWS ON THE BELOW CHANNELS