Rangers Fan Dies, Another After Him Saved from Deathly Fall [PHOTOS]
Four days after a fan died trying to catch a baseball at Texas Rangers game, a spectator at Major League Baseball's Home Run Derby came close to replaying the fatal fall at last week's game, the Associated Press reported.
Keith Carmickle of Kingman, Arizona toppled over a railing at Chase Field in Phoenix, Arizona, trying to snag a home run hit by Milwaukee Brewers Prince Fielder. He leaned forward to reach for the ball and lost his balance, falling headfirst toward a pool deck 20 feet below.
He was saved by his brother and a friend who grabbed him around the ankles and held him, dangling there, until others arrived to haul him back to safety.
I thought: I've lived a good life, Carmickle said about dangling.
His near miss came the same day as the memorial service for Shannon Stone, a 39-year-old fan who died last Thursday whilst trying to catch a ball thrown to him by Rangers All-Star Josh Hamilton.
But in Carmickle's case, a tossed ball wasn't the problem; he'd reportedly already caught three. Standing atop a metal table about 18 inches wide, Carmickle reached for the ball, only to have it hit a wall several feet below him.
I stepped up on the table, I missed the ball by 2 or 3 feet and went over, Carmickle said. We caught three balls and I told the guys I was going to go for the cycle. Dude, they were really holding onto me.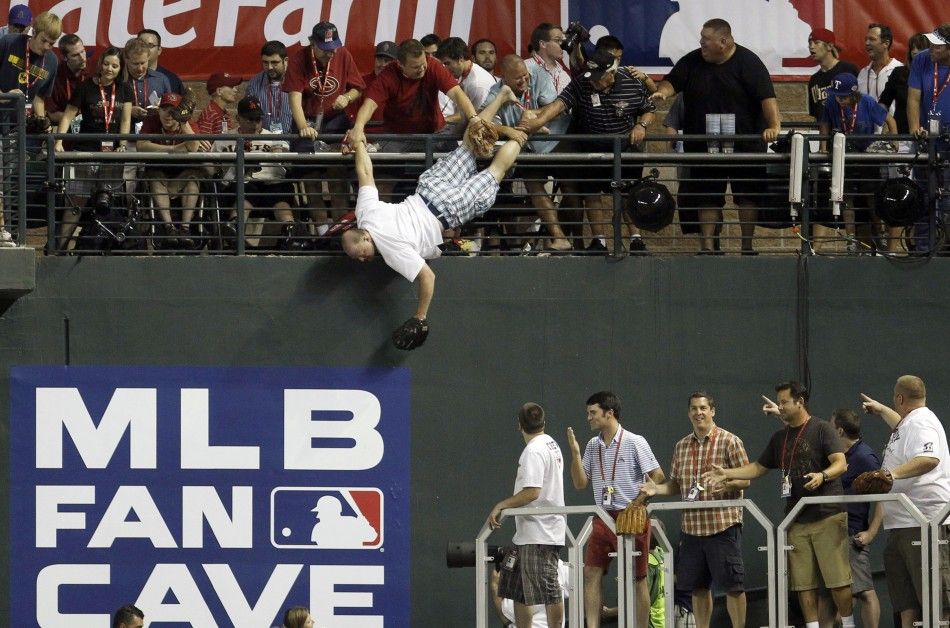 © Copyright IBTimes 2023. All rights reserved.