Recall: Ignition Switch Debacle Is Quickly Dropping Chevrolet Cobalt, Saturn Ion Resale Value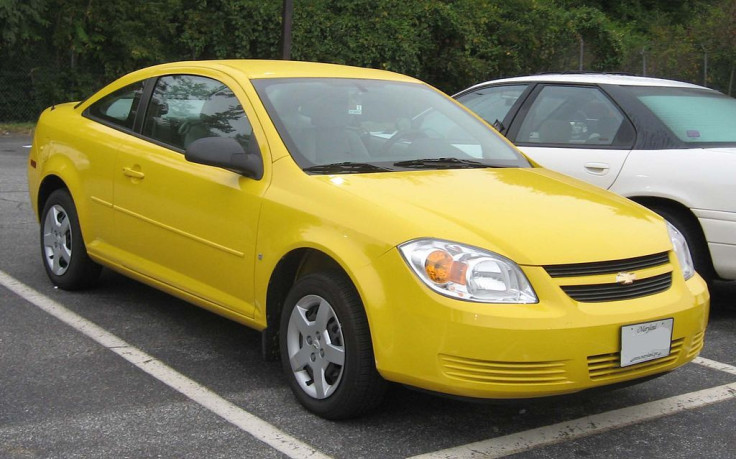 If you're the unlucky owner of one of those shoddy and potentially dangerous cars that "the old GM" unleashed on the American public, your car is devaluing at a rapid pace. While it might be no surprise to anyone that cars spotlighted as rolling accidents waiting to happen lose resale value, a new analysis of millions of used car listings puts some numbers to the effect.
"Our data shows the recalls of the Chevrolet Cobalt, Saturn Ion and other GM models are playing a role in motivating sellers to lower the price they expect to make on their sales," says Phong Ly, CEO of iSeeCars.com, a Boston-based automotive listing site.
Ly examined the used car price listing for the six General Motors Co. (NYSE:GM) models named in a January recall of 2.7 million older sedans whose ignitions switches have harbored an alarming design flaw for years that has been linked to at least 16 deaths and 61 accidents. What he found was that the recalled vehicles have dropped in price twice as much as GM's other cars since the company began in January one of the largest raft of recalls in automotive history.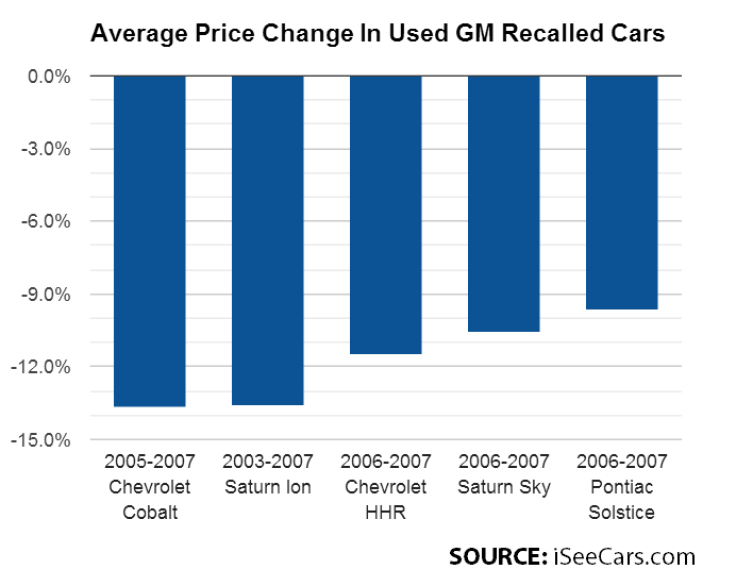 The Chevrolet Cobalt, for example, saw its price drop 13.7 percent from March to June compared to the same period last year. While some devaluation would be expected, it's much higher than the 7 percent average drop for all used GM cars in the study sample over the same period.
Furthermore, Ly found that the devaluation has accelerated in recent months as GM keeps announcing more design flaws largely affecting Chevrolet sedans. The average drop in used-car prices in the six models was 12.5 percent in March; last month that decrease was 15.5 percent compared to June 2013.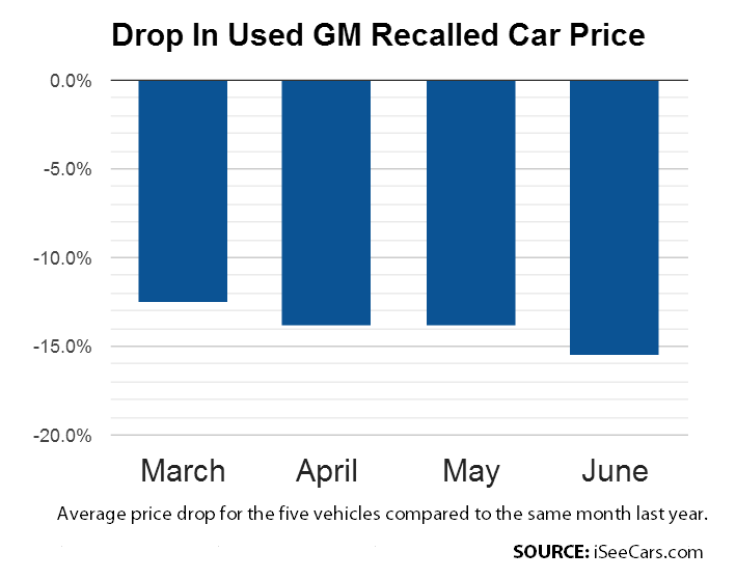 The analysis also found that the Chevrolet HHR station wagon, Saturn Sky and Pontiac Solstice dropped less than the Cobalt, Pontiac G5 (which is basically the Pontiac version of the Cobalt) and the Saturn Ion. They've devalued more than the average GM used car in the sample, but not as much as the two cars most prominently linked to the ignition switch flaw, the Cobalt and the Ion. GM's latest monthly sales report suggests new Chevrolet brand sedans could also be feeling the impact of the recalls.
GM CEO Mary Barra, who took the helm in January just as the GM ignition switch controversy erupted, has since ordered the recall nearly 30 million GM cars to fix myriad flaws. Ignition-switch related recalls now stand at between 8 million and 9 million vehicles, though GM claims most of them only require a modification to the ignition key.
Though it has established a victims compensation fund, GM says it will fight lawsuits from vehicle owners who claim damages related to the loss of value of recalled vehicles. Last month GM was hit with a federal lawsuit filed by law firm Hagens Berman Sobol Shapiro in Riverside, California, claiming all of ther automaker's cars, trucks and SUVs have lost between $500 and $2,600 in value due to the damaged reputation of the company.
"GM's egregious and widely publicized conduct and the never-ending and piecemeal nature of GM's recalls has so tarnished the affected vehicles that no reasonable consumer would have paid the price they did when the GM brand meant safety and success," says the complaint, which could demand more than $10 billion in damages in a class-action lawsuit covering 15 million GM car and truck owners.
On Thursday GM announced it was charging $400 million in its second quarter ending June 30 to compensate victims of ignition-switch-related accidents. The costs of the recall nearly wiped out GM's profit in the second quarter. GM closed down 4.46 percent to $35.74 Thursday after Wall Street reacted negatively to the company's financial results after missing revenue expectations.
© Copyright IBTimes 2023. All rights reserved.