Redditor Karlo Dizon Goes For The 'Biggest Upset Victory' In Guam Delegate Race, Using New Technology To Reshape Island Politics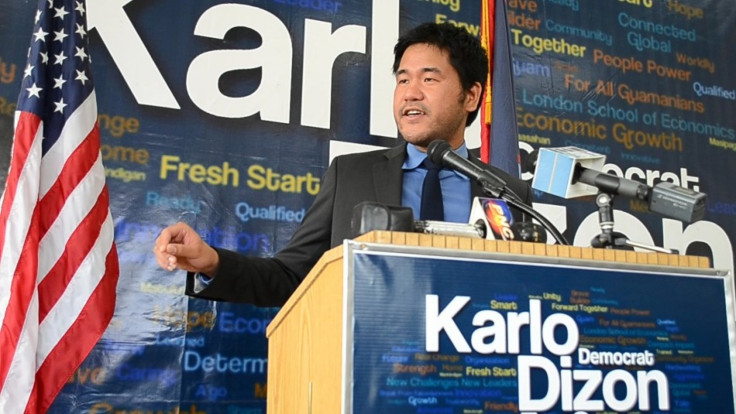 It is not every day that an ordinary young man -- not well known and not particularly well heeled -- decides to challenge one of the most entrenched and popular politicians in the country for her Congressional seat. And in short order is given an actual chance, albeit a slim one, of winning.
Karlo Dizon, a 27-year-old Redditor from Guam, has done exactly that.
A newcomer to the local political scene, Dizon filed candidacy papers last week to go up against incumbent Guam Delegate Madeleine Bordallo, 79, for the Democratic nod in the primary on Sept. 1. He's running mainly on a pro-growth, somewhat technocratic platform, claiming among other things that he'll make it easier for businesses to cut through the red tape that has slowed their investment plans and will clear the way for more tourists from Asia to come to Guam by easing the Visa process. Dizon also promises to get more U.S. federal aid for the island to cover increasing medical costs and to fight against laws that would restrict content on the Internet or give the government access to individuals' Web activities.
All of these positions are not especially radical or novel, but Dizon argues that Bordallo has had nearly a decade to do something about Guam's increasingly dire economic situation -- and has delivered little.
Heavily Democratic, Guam has been a safe seat for Bordallo, who usually runs unopposed in the biennial election. But this year, Guam's economic condition has made her vulnerable. The unemployment rate on the island is about 13 percent, well above the national average, and Guam has twice the amount of people on welfare per capita than any other state or territory. With those numbers, there is increasing disenchantment with the political establishment in Guam, opening the door for not only a primary challenger like Dizon but also general election opponents like the Republican Senator Frank Blas and Independent candidate Jonathan Diaz.
"Increasingly, I was encouraged to throw my hat into the ring -- but to this day I am still very much surprised by such a rapid [growth] of support in such a relatively brief period of time," said Dizon. "It really is a testament to the people's desire for a new way forward."
But if the rhetoric is not quite soaring or original, Dizon's campaign strategy is. A somewhat traditionally minded island with limited but growing computer literacy and education, Guam is used to campaigns that tend to favor retail style politics, done door-to-door, handshake-to-handshake, fundraiser-to-fundraiser. But Dizon's approach is a clever mix of grassroots promotion and social media. For example, Dizon's team maintains a shared calendar on which events and family gatherings can be instantly added as soon as the invite arrives. And he has a public Facebook page that is constantly being updated with plans for the future and pictures of past gatherings that he attended.
Securing Volunteers Through Reddit
But perhaps his most innovative initiative is his use of Reddit, the social news website that lets users submit content that is later ranked by other readers. The higher the ranking, the more sticky the content. An addicted Redditor for three years, Dizon's post last week about his filing for candidacy landed near the top of Reddit's politics section. With this substantial exposure -- Reddit has more than 2 billion page views per month -- Dizon signed up new volunteers and enjoyed a wave of small donations.
One of those contributors was Reddit's CEO Yishan Wong, who made a personal donation, even though he has no connection to Guam.
"I support candidates who want to bring a more technology-literate viewpoint to our government," Wong said. "I believe in supporting candidates in smaller 'minor' areas because they may have a better chance of winning their seats. In general I feel that change often starts at the edges."
What Dizon Brings To The Table
Because Guam is a U.S. territory, its delegate cannot vote in Congress, but he or she may propose and co-sponsor legislation in the House of Representatives. Bordallo is the first woman to serve as Guam's delegate, a position she has held since 2003. Before that, she was First Lady during the late Governor Ricardo Bordallo's terms in office, and later she was elected Lt. Governor.
In Washington, Bordallo is a prominent figure on the House Armed Services Committee and the House Committee on Natural Resources; in Guam she's a high-profile celebrity. Bordallo didn't respond in time to answer questions before this article's publication.
Indeed, when John Paul Manuel, a good friend of Dizon's, learned that his pal was running against Bordallo, his first reaction was that he must be crazy.
"Not because he wasn't qualified, but the incumbent is an icon on Guam, and while her status has waned in the past few years, it would still amount to going for the biggest upset victory in the history of Guam politics," Manuel said.
But Dizon believes that his own story will resonate with Guamanians, who seek to believe again that humble beginnings need not hold a person back.
Dizon grew up in a small agricultural town in Bataan, Philippines; was a student in Guam's public school system; and earned a bachelor's degree with distinction in political science from Yale University. Subsequently, Dizon obtained a master's degree in comparative politics from the London School of Economics.
In 2008, Dizon helped manage Barack Obama's presidential campaign in Guam as well as the president's campaign headquarters in Spencer, Iowa. Following the election, Dizon moved to Beijing, to work with the non-governmental organization U.S.-China Collaboration on Clean Energy.
"We are running against a five-term incumbent with a household name," Dizon said. "If we win, this election [will prove] the power of people against the establishment."
Internet Freedom
While he says that Guam's economic future is his priority, Dizon noted that supporting Internet freedom is critical for the island because of its remote location in the Pacific. "For an island like Guam -- where the Internet provides an incredible connection [to] an otherwise geographically isolated area -- being able to use the Internet freely is vital as a means to business, information and as an outlet for our voice," Dizon said.
A spate of legislation that detractors felt would have reduced Internet access to content and online privacy -- bills like PIPA (Protect IP Act), SOPA (Stop Online Piracy Act) and CISPA (Cyber Intelligence and Protection Act) -- were introduced in Congress last year but failed to pass. Bordallo supported them.
Not so Dizon. Losing Internet freedom is as troubling as the potential loss of any of our other freedoms, he added.
Those kinds of attitudes are what attracted Wong to Dizon. "I'm saddened that so many candidates these days don't have a functional understanding of the Internet and online culture," he said said. "Not having that understanding would be like a legislator from the last century proposing laws governing the auto industry but not owning a car or knowing how to drive."
Still, although Dizon is the darling of much of the technorati and is surprisingly holding his own in the Guam campaign -- he's behind Bordally by about 10 percent in recent relatively unscientific polls, which is remarkably close considering he is running against such a popular incumbent -- there are whispers that he's not quite all he's cracked up to be.
Because Dizon is so unknown on the island, some Democrats have said that he is a plant by the Republicans to weaken Bordallo in hopes of wresting the delegate seat away from the Democrats. Although these suspicions are unsubstantiated -- the only circumstantial evidence is that Dizon's family were Republicans -- and Dizon scoffs at them, they are nonetheless part of the narrative in the campaign.
And some Redditors are also suspicious of him. After Dizon made a plea for Internet freedom on Reddit, ActuallyFromGuam responded on the site: "As someone who has been following this race quite closely, I have never once heard Mr. Dizon mention this issue as part of his campaign. But it's what Reddit cares about, so he's using it as a platform to get donations. Smart, if not entirely honest."
Not quite the epitaph that a politician, especially one that purports to be a breath of fresh air, would want on his tombstone. However, since he's clearly an underdog, Dizon will take any publicity he can get. If he beats Bordallo, he will be a rising star in Guam politics. Until then, he's at the stage where it doesn't really matter what others say about him as long as they spell his name right.
© Copyright IBTimes 2023. All rights reserved.
FOLLOW MORE IBT NEWS ON THE BELOW CHANNELS