Refugee Crisis: ISIS Fighters In Europe? Islamic State Extremists Exploit Refugee Flow, Waiting To Launch Attacks, Militant Operative Says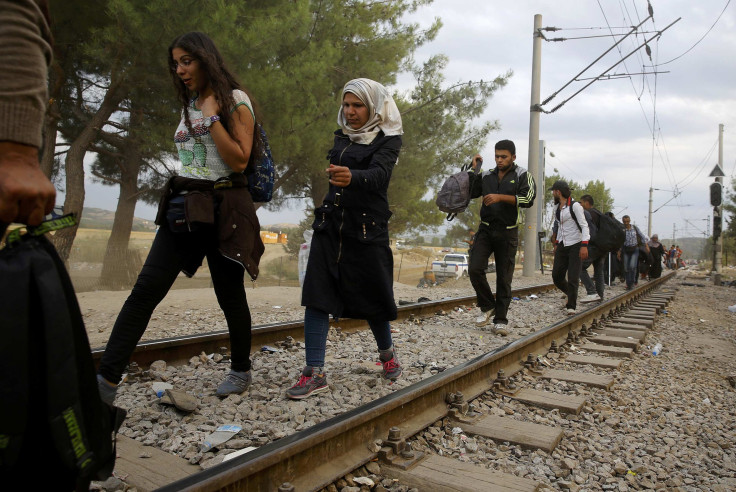 Western governments have long feared the possibility of Islamic State militants quietly slipping across their countries' borders. Now, amid the worst refugee crisis in decades, some are again sounding the alarm, as tens of thousands of refugees continue to enter Europe – raising concerns that extremists could be slipping in as well, CNN reported Monday.
Opportunistic smugglers have reportedly been helping small groups of ISIS fighters travel from southern Turkey into Europe for months, hidden in cargo ships filled with hundreds of refugees, according to an ISIS operative and several smugglers quoted by BuzzFeed in January. The ISIS operative claimed some 4,000 fighters were already waiting in Europe, intent on fulfilling ISIS's repeated threats to stage attacks around the globe. He said such attacks would be in retaliation for U.S.-led airstrikes against the group in Iraq and Syria.
"Just wait," he told BuzzFeed earlier this year.
Hundreds of thousands of refugees fleeing war in Syria have decided in recent months to make their way to Europe, where there is more economic opportunity than in Turkey -- more than a million Syrians have taken refuge in Turkey. Last week, a picture of Syrian toddler Aylan Kurdi, whose body washed ashore on Turkey's southern resort coast after drowning during a dangerous boat journey in an inflatable dinghy, raised awareness of the refugees' plight. The incident ignited international concern over the refugee crisis wrought by years of conflict in Syria. It is in that tide of desperate refugees that more ISIS fighters have been able to quietly slip into Europe, according to individuals quoted by BuzzFeed.
"I'm sending some fighters who want to go and visit their families," a smuggler, who said he's been helping militants cross for months, said. "Others just go to Europe to be ready."
The smuggler said while some fighters were from Syria, many also hailed from elsewhere around the Middle East, and even Europe or the U.S. Once they cross the porous Turkish border from Syria, the smuggler puts fighters up in hotels and waits for a passenger list to fill and for the weather conditions to be right.
Fear that ISIS could be slipping in with refugees has led some European politicians to encourage a cautious approach to welcoming Syrians. Nigel Farage, leader of the right-wing UK Independence Party, said last week there was a "very genuine fear" that extremists were exploiting the crisis to enter Europe, and he warned his compatriots not to "allow our compassion to imperil our safety."
Still, human rights organizations and activists have widely called on European countries to do more to accommodate refugees seeking safety in their countries. About 11 million Syrians have been displaced by fighting in Syria, most of them internally. About 4 million people have fled the country -- a majority have settled in neighboring Turkey, Jordan and Lebanon. Germany has welcomed hundreds of thousands of Syrians into the country, while Austria and Hungary have sought to prevent refugees from entering.
The chairman of the U.S. Senate Intelligence committee, Richard Burr, confirmed that he was aware extremists in Syria were likely to be exploiting the tide of refugees into Europe. "I think it's safe to say that that goes on. To what degree, I'm not sure we know," he told BuzzFeed.
Correction 12:01 p.m. EST: A previous version of this article erroneously stated when a BuzzFeed article titled, "ISIS Operative: This Is How We Send Jihadis To Europe," was published. The article, which featured an ISIS operative who claimed 4,000 militants have quietly infiltrated Europe, was published Jan. 29, 2015.
© Copyright IBTimes 2022. All rights reserved.
FOLLOW MORE IBT NEWS ON THE BELOW CHANNELS