Reindeer Woes: World's Largest Herd 40% Smaller In 16 Years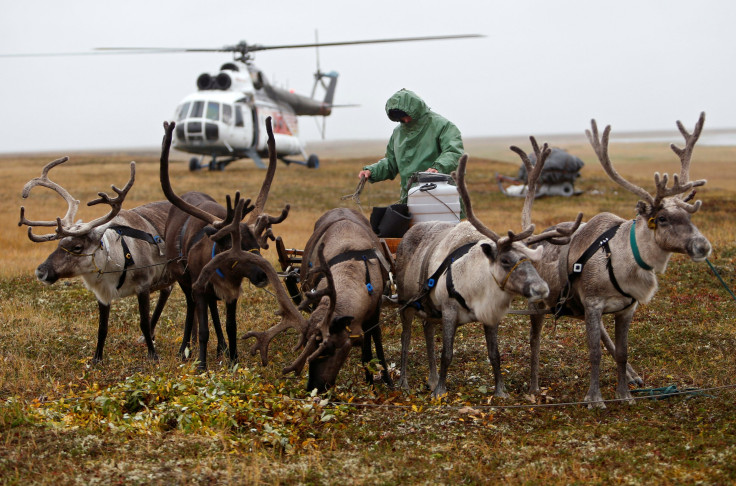 It's the holiday season and kids around the country will soon be hanging up stockings for Santa Claus to leave them gifts in. However, Santa's ride may be facing problems because its beast of burden, the reindeer, is facing something of an existentialist crisis.
Scientists at a meeting Monday in England spoke about how the Svalbard herd of reindeer in Norway has lost 12 percent of body mass in 21 years, or about seven generations. And at another meeting in San Francisco, also on Monday, scientists presented data from Russia that showed a 40 percent decline in reindeer numbers over the last 15 years.
The Taimyr Peninsula in the northern edge of Russia is home to the largest wild reindeer herd in the world which has been regularly monitored for about 50 years now. Based on data from the year 2000, the herd had about 1 million individuals, its peak population. And according to the latest data, collected using aerial surveys and satellite imagery, the population of the herd has fallen to about 600,000, which still accounts for 24 percent of the world's reindeer population.
Speaking at a session called "How animals will fare in a changing climate" at the 49th annual Fall Meeting of the American Geophysical Union in San Francisco on Monday, Andrey Petrov from the University of Northern Iowa, Cedar Falls, Iowa, said: "In the last two decades, we see a dramatic shift in migration… mostly because of climate change as well as human activity."
Mentioning more specific reasons, Petrov said the reindeer were moving further north and east to get away from increasing human development in the western parts of their range.
"We see they deviate further away from historical locations, moving primarily east and north, as a result of moving away from warmer temperatures and avoiding mosquito harassment. They are also utilizing smaller percentage of the range."
As the reindeer move further north, they go further away from their summer grounds which are further south. After birth of the calves, when they move to the summer grounds, the young reindeer now have a higher mortality rate because of the toll the longer walk takes on their bodies, as well as due to crossing rivers, which were frozen in the colder temperatures earlier and could be just walked across.
Last month, news emerged from Russia that the same weather event had caused the deaths of some 80,000 reindeer. Those deaths occurred in two episodes, one in 2006 and the other in 2013.
© Copyright IBTimes 2023. All rights reserved.