Rep. Aaron Schock Reimburses Taxpayer-Paid Private Plane Fare For Football Game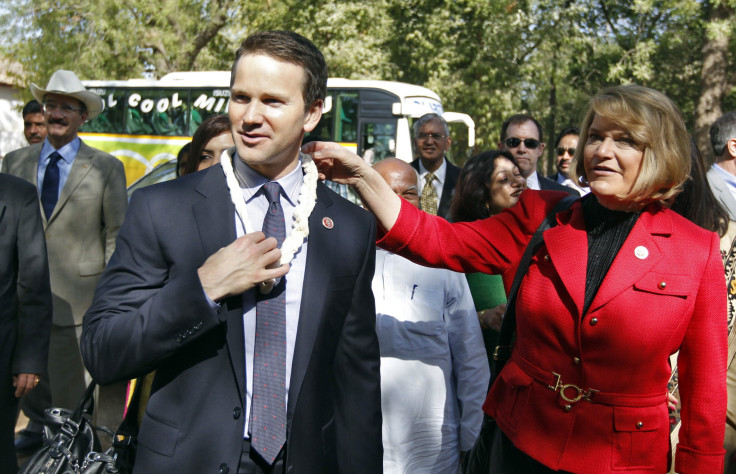 Rep. Aaron Schock, R-Ill., wrote a check for $1,237 Monday to repay the U.S. Treasury for billing his House account for a private plane ride to see a Bears-Vikings football game in November. "The congressman has reimbursed the U.S. Treasury by sending a check today for $1,237.00 to cover the Chicago trip. His team will continue their thorough review of his office procedures," said a Schock representative in a statement, according to the Chicago Sun-Times.
The Sun-Times reported that according to House disbursement records, Schock used taxpayer money to travel from Peoria to Chicago for the game, and had billed a similar expense for a September trip to New York. Schock had spent $20,855 in taxpayer money for the Chicago and New York trips altogether, according to the Sun-Times, and a recent disbursement record showed a payment of $10,802 to pilot Keith Siilats for "commercial transportation." "That whole weekend was paid by the government," Siilats told the Sun-Times Sunday.
Siilat said that Schock called him asking to fly him to a Chicago Bears game, which Siilats agreed to, according to the Sun-Times. Siilats flew Schock, his district director Dayne LaHood and three others to Chicago Midway International Airport and was invited to watch the game with them as compensation. The tickets cost anywhere from $106 to $430, and it was not clear who paid for the six tickets, reported the Sun-Times.
Schock also spent taxpayer money on entertainment, including a massage company and concerts, according to The Associated Press. Schock frequently travels throughout his Peoria district "to stay connected with [his] constituents" and to raise money for his campaign committee and congressional colleagues, he told the AP on Feb. 23. Schock is known for his penchant for uploading pictures and videos of himself to his Instagram account, which contain many photos of his travels.
The Office of Congressional Ethics said in a 2013 report that Schock, who represents Illinois' 18th district, may have violated House rules by soliciting campaign contributions in a 2012 primary for a committee that backed Rep. Adam Kinzinger, R-Ill., of the 16th district, according to the AP. That query remains open.
Schock has since hired two lawyers to conduct an internal audit of his operations following scrutiny that his Washington office was designed in the style of the television show "Downton Abbey." Schock brushed off the public interest in his taste in interior designing. "Haters are gonna hate," he told ABC News.
© Copyright IBTimes 2023. All rights reserved.