REPORTS: Carmelo Anthony Says He Wants To Retire With Portland Trail Blazers
KEY POINTS
Carmelo Anthony is on his 18th season – his first with Portland
Melo sees Portland as a place for him to end his career
He still wants to play for the team if he will be given another chance
Not wearing any NBA team threads to start the season to a successful return to the league, Portland Trail Blazers forward Carmelo Anthony feels like he's in a better place now.
In an article by Portland Tribune, the 10-time NBA All-Star has become very comfortable with the team that he is looking forward to don the red and black. "I would love to stay," said the 35-year old Anthony.
For a player that almost called it quits to someone who is still getting buckets for his team, Anthony has been lighting it up for coach Terry Stotts. Anthony was given a non-guaranteed contract by the Trail Blazers after an awful start – only five wins to show out of 14 games. On December 5, the team decided to give him a guaranteed contract for the remainder of the season after being named as the Western Conference Player of the Week.
Now on his 18th season, Anthony may have been thinking about leaving the game soon but reiterates that he has still a lot left in the tank, which signified his desire of coming back to the team if given a chance. "I feel like this is the place for me to end my career. It could have happened earlier, but it didn't," said Anthony.
Realizing that he's nearing the twilight of his career, the third overall pick of 2003 NBA Draft sees himself calling it a career with his current team. "Now, where I'm at in my life and my career — this is where I want to retire."
Melo is averaging 16.1 points, 6.5 rebounds, and 1.5 assists on 38.2 percent shooting from the three-point line – his highest percentage in five years – through 32 games. He's also hitting shots from his sweet spot – perimeter – and is giving his team the buckets they need.
Portland could be holding 20-27 record by now but as far as Melo is concerned, he's found a place where he can enjoy playing hoops again after being seen as an outsider looking in at the start of this season after his stints with Denver Nuggets, New York Knicks, Oklahoma City Thunder, and Houston Rockets.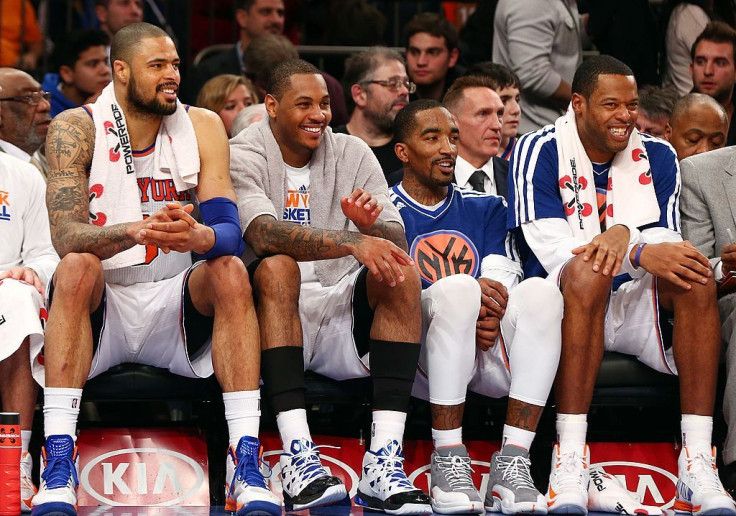 © Copyright IBTimes 2023. All rights reserved.