Rick Pitino Net Worth: Firing Will Cost Louisville Coach Millions In Salary
Rick Pitino survived multiple scandals as the head coach of Louisville's basketball team, but the latest allegations surrounding the Cardinals were too much for him to withstand. The school placed the Hall of Famer on "administrative leave" amid the program's role in an FBI investigation of corruption in college basketball.
With a recruit accused of accepting $100,000 to play for Louisville, the school has all but officially fired the highest-paid coach in the entire sport. Not only did Pitino have a higher salary than any other coach, but his lucrative contract would have considerably increased his net worth over the next decade.
Pitino reportedly made $7.76 million last season, putting him ahead of both Kentucky's John Calipari and Duke head coach Mike Krzyzewski. In June 2015, Louisville announced that they signed Pitino to a contract extension, one that could've made him the head coach through the 2025-2026 season. The 10-year contract was worth $50.93 million in guaranteed salary, though he was eligible to earn more money with various bonuses.
Pitino claimed he knew nothing about the alleged plan for an Adidas official to pay a Louisville recruit six figures in order to play basketball for the university.
"If true, I agree with the U.S. Attorneys Office that these third-party schemes, initiated by a few bad actors, operated to commit a fraud on the impacted universities and their basketball programs, including the University of Louisville," Pitino said in a statement. "Our fans and supporters deserve better and I am committed to taking whatever steps are needed to ensure those responsible are held accountable."
The federal investigation also includes scandals at Auburn, USC, Oklahoma and Arizona. The charges are so serious that there has been speculation that Louisville could receive the NCAA's "death penalty," which would eliminate the basketball program for at least one year.
It was just three months ago that Pitino was suspended for a separate violation. The NCAA determined that Pitino wouldn't be allowed to coach the first five games of the upcoming ACC schedule because members of the program were found to have "paid escorts to dance for and have sex with players and recruits" under Pitino's watch.
The NCAA has yet to decide whether or not to vacate the school's 2013 national championship. Pitino denied having any knowledge of that scandal when it was ongoing, just as he has with the latest investigation.
Pitino, 65, is one of the most successful coaches in college basketball history. Having won a national title at Kentucky in 1996 and Louisville in 2013, he's the only coach to win titles at two different schools. He's taken three schools to the Final Four, doing it first with Providence in 1987. Joining Louisville in 2001, Pitino led the school to three Final Four appearances.
After leaving Kentucky in 1997 and before going to Louisville, Pitino spent three and a half seasons as the head coach of the Boston Celtics. He initially signed a 10-year, $50 million contract with the team, giving up a reported $27 million when he resigned.
Celebrity Net Worth lists Pitino's net worth at $25 million, though that figure is unconfirmed.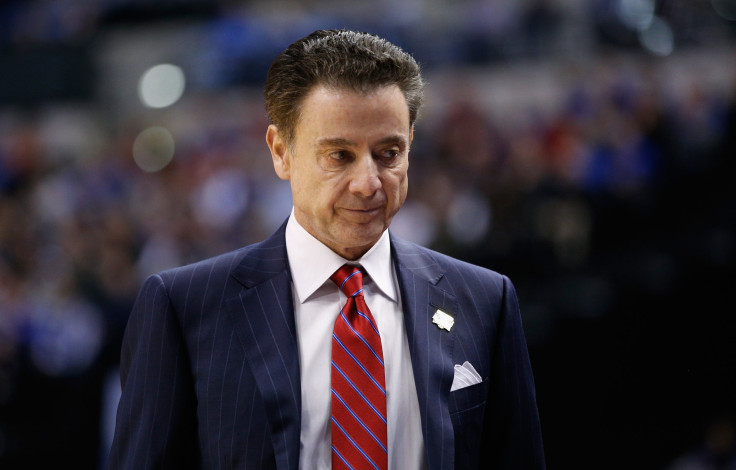 © Copyright IBTimes 2023. All rights reserved.