LaVar Ball Denounces NCAA Eligibility Rules: 'They're Not My Boss'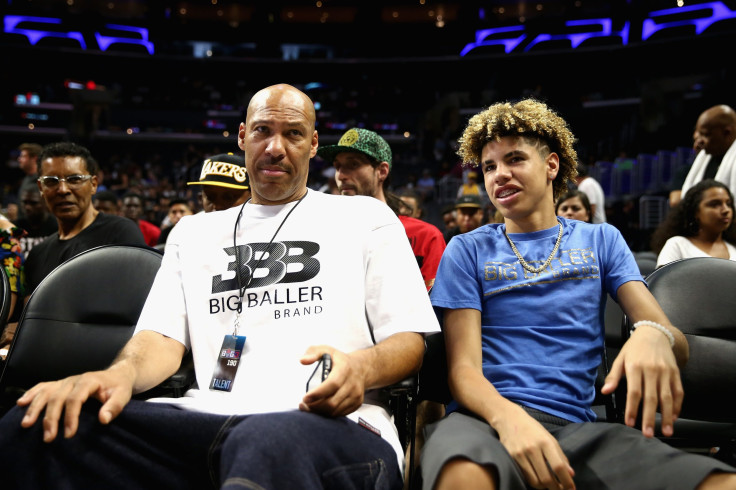 LaVar Ball, the outspoken father of the Los Angeles Lakers rookie Lonzo Ball and owner of the Big Baller Brand athletic company, wants all his sons to have their own signature athletic shoes, including his youngest son, high school basketball standout LaMelo Ball — even if it costs him his NCAA eligibility.
LaVar Ball wanted to do something that has never been accomplished before and that is to give a signature shoe to a high school basketball player. The move raised some eyebrows and garnered the attention of the NCAA, which has specific rules restricting players from making money from products. LaMelo Ball verbally committed to UCLA and could lose his eligibility because of the shoe deal.
LaVar Ball claimed that he isn't concerned with the college basketball eligibility rules that LaMelo Ball will have to adhere to when he attends college in 2019.
"He's going to have a shoe," LaVar Ball told ESPN Saturday night during his son's 16th birthday party at an event space in the Chino Airport. "NCAA ain't going to tell me s--- because they're not my boss. That's what they do, but they're not going to be like, 'Oh, LaVar, you can't bring that shoe out until we tell you.' What? Something that I'm doing for my family? That's mine? I'm not under no umbrella."
LaMelo Ball's signature shoe dubbed the "Melo Ball 1" became available Thursday for preorder on the Big Baller Brand's website for $395. After the company announced the shoe's release date, the NCAA issued a statement clarifying protocol for players who looked to profit from their namesake.
Go to https://t.co/DVpHPzPDs3 and buy a piece of history!! #bigballerbrand pic.twitter.com/Jl94lx9qVH

— Lavar Ball (@Lavarbigballer) August 31, 2017
"Generally speaking, a college athlete or prospect paid for use of their athletics reputation or ability risks their future eligibility in that sport," NCAA spokesperson Emily James told ESPN's Darren Rovell Thursday. "This includes profiting from the sale of items bearing the young person's name. NCAA rules, however, do allow prospects to promote commercial products prior to enrollment, provided it is not for pay."
LaVar Ball denounced the NCAA's rules and claimed that the association was being unfair. He suggested that if they banned his son from playing because of the shoe that he would just have his son sit out for a few years and continue his career through basketball free agency.
"They're not going to tell me what I can do for my son and my family," LaVar Ball told ESPN. "He's not even in the NCAA, and that's the first thing they're coming up with instead of saying, 'Oh, that's a nice shoe. Your dad just gave a shoe to him, a signature shoe that he can play in that's to his specifications.'"
"We'll sit out a year or two. Just get stronger and faster, and then go into [NBA training] camp as a free agent. He already got the narrative — he can play, he can play. You see what he's doing at 15 and 16."
Whether a sneaker deal could impact his college eligibility is unclear. NCAA bylaws stated that it could be possible for LaMelo Ball to retain his eligibility if he withdraws permission from Big Baller Brand to use his likeness. The NCAA issued a statement last week to ESPN regarding the matter, though they remained mum and didn't address the LaMelo Ball controversy directly.
#BallInTheFamily _ Make sure to Follow https://t.co/UzeOyx0xey to see new episodes... First one airs tomorrow _ Spread the word __ pic.twitter.com/LGOrBFl6Wc

— Lonzo Ball (@ZO2_) August 30, 2017
"UCLA cannot comment on any prospective student-athlete until he or she has signed a letter of intent or scholarship agreement," the statement read. "Any prospective student-athlete's amateur status needs to be certified prior to his or her participating in team activity. As such, NCAA eligibility is assessed at the start of every student-athlete's academic year and is re-evaluated, as needed. Once cleared by the NCAA, institutions can allow that student-athlete to participate."
LaMelo Ball himself commented on the situation. He said he's focused on his high school career for now. He is currently ranked No. 7 in the 2019 draft class, according to ESPN.
"I've still got two years left, so I'll worry about that when it gets there," he told ESPN.
© Copyright IBTimes 2023. All rights reserved.