Rick Santorum Kim Davis MLK Controversy: During GOP Debate, Candidate Compares Kentucky Clerk To Martin Luther King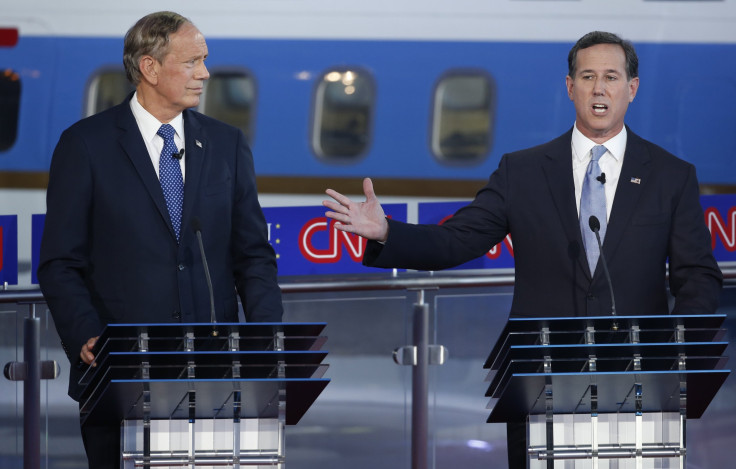 Former Sen. Rick Santorum, R-Pa., was slammed on Twitter Wednesday night for apparently comparing a Kentucky clerk who refused to marry gay couples to civil rights leader Martin Luther King Jr. The arrest last week of Kentucky clerk Kim Davis has sparked a national debate about whether officials must enforce the law or should be granted religious liberty.
During a GOP candidate debate, Santorum called Davis a hero for standing against a "judge's unconstitutional" ruling. "How many clerks are we going to throw in jail?" Santorum asked. "Martin Luther King wrote a letter from the Birmingham jail, and he said in that letter that there are just laws and there are unjust laws, and we have no obligation to condone and accept unjust laws," he said.
Davis was thrust into the national spotlight this month after she was arrested for refusing to issue same-sex marriage licenses. Santorum also compared Davis to Cassie Bernall, a high school student who died in the 1999 Columbine school shooting when she told a gunman she believed in God. "Sixteen years ago this country was tremendously inspired by a young woman who faced a gunman at Columbine, was challenged about her faith, and she refused to deny God," Santorum said. "We saw her as a hero. Today, someone who refuses to defy a judge's unconstitutional verdict is ridiculed and criticized, chastised, because she's standing up and not denying her God and her faith."
Santorum drew criticism during the first candidate debate after he compared gay marriage to a Supreme Court ruling upholding slavery. Asked if same-sex marriage rights were settled after a recent Supreme Court ruling recognizing gay marriage, Santorum said: "It is not, any more than Dred Scott was settled law to Abraham Lincoln. ... This is a rogue Supreme Court decision."
The Supreme Court's landmark decision in July made gay marriage legal across the nation. The U.S. Supreme Court ruled in March 1857 that blacks were not and could never become citizens of the United States. The Dred Scott v. Sanford case involved a slave who had lived in the free state of Illinois before moving back to the slave state of Missouri.
Santorum is known as a staunch conservative and Catholic. Most recently, he said Supreme Court rulings were not the "law of the land" while defending Davis. "I would advise Kim Davis to follow her conscience," Santorum said on CNN's "New Day" Monday.
In a recent CNN/ORC poll of likely caucusgoers in Iowa, an important early primary state, Santorum had just 1 percent of support. He recently visited all of Iowa's 99 counties as part of his campaign's effort to perform well in the state.
"It's a long, arduous process ... People say, 'Oh, you're just trying to check a box.' No, no, no. This is how you win caucuses," Santorum said at the time.
© Copyright IBTimes 2023. All rights reserved.