Rick Santorum Compares Gay Marriage To Dred Scott Ruling Upholding Slavery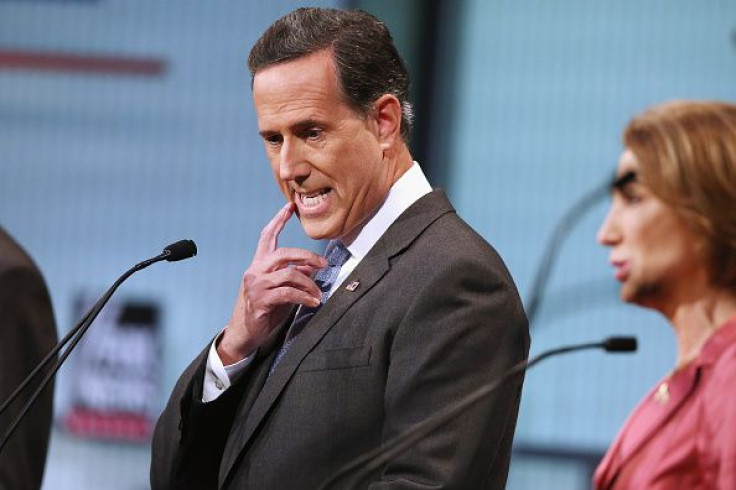 Former Sen. Rick Santorum, R-Penn., compared gay marriage laws to a Supreme Court ruling upholding slavery during a GOP candidate forum Thursday night. Asked if the matter was settled after a recent Supreme Court ruling on LGBT rights, Santorum said, "It is not, any more than Dred Scott was settled law to Abraham Lincoln. ... This is a rogue Supreme Court decision."
Santorum had previously said the Supreme Court's ruling on gay marriage further "put the nail in the coffin" of the nuclear family. He said the Supreme Court ruling would have "profound consequences" worldwide. "Marriage is no longer about kids, it's simply about adults," Santorum said at the time.
The Supreme Court ruled in July that same-sex couples could marry nationwide in a landmark decision that created a new civil right long denied to hundreds of thousands of Americans. In the 5-4 ruling, Justice Anthony Kennedy praised the right to marriage. "No union is more profound than marriage," he wrote.
The U.S. Supreme Court ruled in March 1857 that all blacks were not and could never become citizens of the United States. The Dred Scott v. Sanford case involved a slave who had lived in the free state of Illinois before moving back to the slave state of Missouri.
Former Texas Gov. Rick Perry and Louisiana Gov. Bobby Jindal were among the Republican presidential hopefuls who participated in the second-tier candidates' forum that aired ahead of a main debate airing later Thursday. The 5 p.m. EDT forum also included former Hewlett-Packard CEO Carly Fiorina, South Carolina Sen. Lindsey Graham, former New York Gov. George Pataki and former Virginia Gov. Jim Gilmore.
These candidates' low poll numbers meant they had failed to meet Fox News Channel's criteria for the prime-time debate.
© Copyright IBTimes 2023. All rights reserved.
FOLLOW MORE IBT NEWS ON THE BELOW CHANNELS