Riots In Kiev Continue: 6 Things You Need To Know About Maidan Protests In Ukraine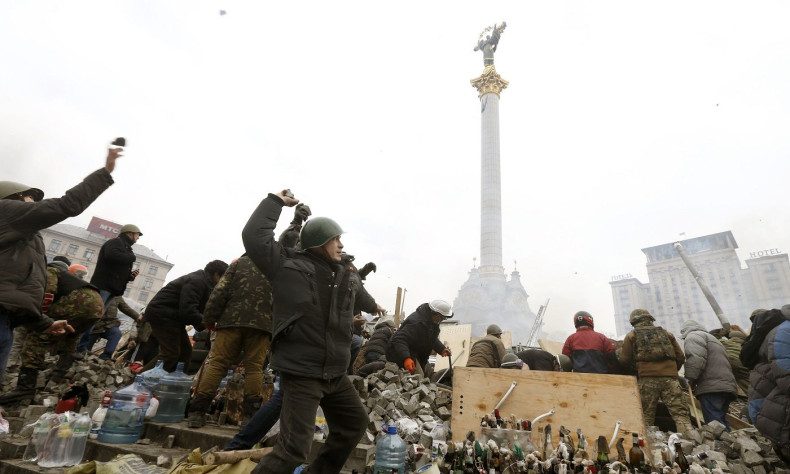 For the past three months anti-government protesters have stood their ground in Independence Square in the Ukrainian capital Kiev, demanding that President Viktor Yanukovych step down. The protests and government crackdown have degenerated into an all-out street war, with dozens killed as of Wednesday.
But why?
Here are six things you need to know about what's going on in Ukraine.
1. In late November, Ukrainians flooded the streets of Kiev to protest a decision by Yanukovych to reject closer integration with the European Union. While only around 40 percent of Ukrainians supported the trade deal with Europe, many viewed Yanukovych's decision as a sign that he was turning away from Europe and moving toward Russia, their former imperial master. Many Ukrainians felt betrayed by the government because it promised for years that it would sign the trade agreement with Europe, but it suddenly without explanation shifted its position, notes Samuel Charap, a senior fellow for Russia and Eurasia at the International Institute for Strategic Studies in London.
2. In late December, Russian President Vladimir Putin offered Ukraine an economic aid package worth $15 billion and a 33 percent discount on Russian natural gas, angering those protesters even more as they viewed this as a reward for pulling out of the European deal. Many Ukrainians believe that Russia's hold on Ukraine is preventing the country from opening up its economy, and that Russia wants to keep Ukraine in its sphere of influence.
3. This was not the first time Ukrainians protested Yanukovych. In 2004, mass protests known as the Orange Revolution succeeded in overturning the result, seen as fraudulent, of a presidential vote electing the pro-Russian Yanukovych. A new vote ordered by the Supreme Court resulted in the victory of pro-European candidate Viktor Yushchenko.
4. On Jan. 22, after at least two months of relatively calm demonstrations, protests became violent. If the reversal of the deal with Europe was not enough, Yanukovych's government passed a series of strict laws that imposed tight controls on the media and outlawed the protests. Five people were reported killed and hundreds injured.
5. Violence escalated on Tuesday, when security forces gave protesters a deadline to leave Independence Square (in Ukrainian, the Maidan, hence the name of the Euromaidan movement), where most of the demonstrators had been camping out since November. The city's metro service was shut down and cars were prevented from coming into the capital. That evening police announced through loudspeakers that "anti-terror operations" were about to take place.
6. On Wednesday, unable to clear the capital, security forces continued to clash with protesters. Reports say that at least 25 people were killed and hundreds injured. In response to the crackdown on protests, the EU announced that it will convene Thursday to discuss targeted sanctions on those responsible for the harsh crackdown.