Rockets Trade Rumors: Dwight Howard and Deron Williams Could be Headed to Houston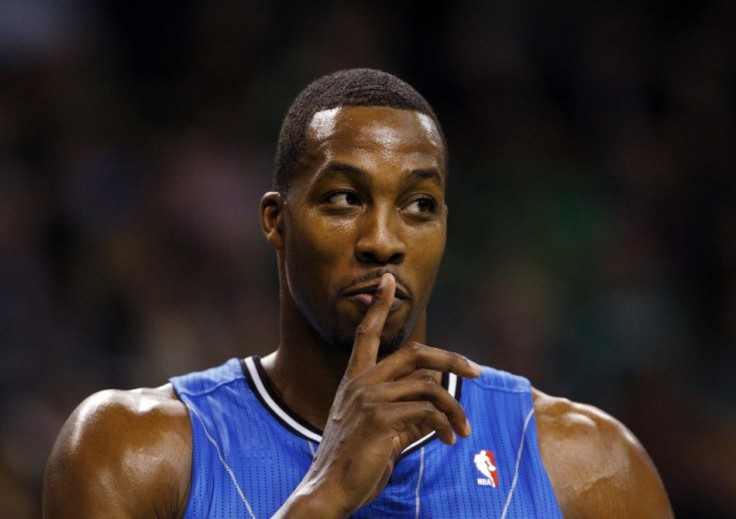 Despite opting-in to the final year of his contract, it seems that Dwight Howard's days in Orlando are numbered.
The center is still looking to be traded, and multiple teams have called the Magic within the past few days, looking to acquire the six-time All-Star. Howard still wants to be traded to Brooklyn, but a deal with the Nets doesn't seem to be imminent.
The Nets don't have nearly enough to offer the Magic. They don't have a first round draft pick, and won't select until number 57 on Thursday night. The best piece they can offer the Magic is Brook Lopez. Orlando won't make a trade that revolves around a center that played just five games last year, and hasn't averaged over six rebounds since 2010.
The Magic would like to hold onto Howard, but it doesn't seem that they will be able to sign him to a long-term deal. Orlando will probably try to trade Howard, instead of losing their best player, without getting anything in return.
There aren't many NBA teams that could offer the Magic close to equal value.
The Lakers could send them Andrew Bynum for the superstar. However, Los Angeles had the opportunity to make the same deal this past season, and declined to pull the trigger.
The Bulls have been mentioned as possible suitors for Howard, and might have enough to get a deal done. Chicago could offer Orlando a package surrounding Luol Deng and Joakim Noah. Howard, though, has reportedly ruled out playing in Chicago, in fear of becoming Derrick Rose's sidekick.
With the Nets, Lakers and Bulls seemingly nowhere near landing Howard, the Rockets are left as the most viable option to acquire the center.
Houston has been positioning themselves in the past few days to land D12.
On Tuesday, the Rockets sent Chase Budinger to Minnesota for the 18th overall pick in the NBA Draft. The move gives Houston the 14th, 16th, and 18th picks in Thursday's draft. With three selections in a relatively deep draft, as well as a few good, young players on their roster, the Rockets probably have enough to convince the Magic to make a trade.
The Rockets can turn a few of these picks into an even higher selection, or possibly an established player in the league. This might give Houston enough, along with shooting guard Kevin Martin, to pull off a trade.
The biggest obstacle Houston faces is Howard's preference of going to Brooklyn. He can't block a potential trade to the Rockets, but if he doesn't agree to stay in Houston after his deal runs out in 2013, the Rockets likely won't make the trade.
Howard may be set against playing the rest of his career in Houston. However, he will likely soon find out that it might be the best place for him to go.
D12 wants to join Deron Williams with the Nets, but Orlando won't make a trade with Brooklyn anytime soon. If Howard isn't traded to the Nets, there's a good chance Williams won't re-sign with them. Without Williams in Brooklyn, Howard probably won't want to sign with them when he becomes a free agent in the 2013 offseason.
If Howard wants to eventually play with Williams, Houston is the best place for that to happen. The Rockets have a lot of cap space, and if they can pull off a trade for Howard, they'd be in play to sign Williams. Williams grew up in Texas, and might be open to joining the Magic star in Houston.
Acquiring both Howard and Williams would make the Rockets one of the favorites to win the title next season. According to Alex Kennedy of Hoops World, the Rockets think Hakeem Olajuwon's relationship with Howard could help them keep the center for multiple seasons.
The Rockets are putting themselves in a position to make a big splash this summer. If the Lakers or Nets are unable to make a trade for him in the coming days, Howard may realize that his best chance to win a championship is in Houston.
© Copyright IBTimes 2023. All rights reserved.