Roger Federer Reveals How He Handles Defeat Today Compared To Younger Days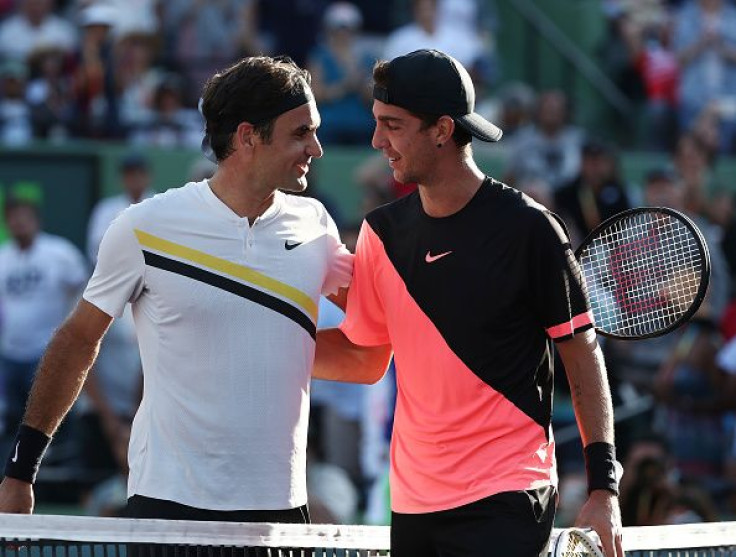 Roger Federer revealed how he handles defeat today compared to his younger days following his listing in Time Magazine's 100 Most Influential People for 2018.
The Swiss legend was notably on the cover of the magazine that annually produces a list of the most influential people in the world with Federer being just one of six athletes being represented.
Microsoft founder Bill Gates paid tribute to him in his entry as he praised Federer for being the greatest player of all time as well as for his charitable work.
"Roger knows that effective philanthropy, like great tennis, requires discipline and time," Gates wrote. "It will be a sad day for all of us fans when he hangs up his racket — but we can take comfort in knowing that he's committed to making the world a more equitable place."
Federer is experiencing a career renaissance over the past 14 months, winning his first Grand Slam since 2012 when he won the Australian Open last year before adding a record-breaking 10th Wimbledon crown to his collection.
Ending 2017 with a tour-leading seven titles, Federer's resurgence continued this year as well as he won the Australian Open yet again before making tennis history by becoming the oldest world No. 1 during his win at the Rotterdam Open in February.
However, he recently lost his ranking at the top following two consecutive defeats, for the first time since 2014, against Juan Martin del Potro in the final of the BNP Paribas Open and Thanasi Kokkinakis in his opening match at the Miami Open last month.
While in the past, the 36-year-old would experience a range of different emotions when he lost a game, Federer can now analyze his losses much better thanks to his experience.
"Sometimes you get unlucky, sometimes the opponent's better, sometimes it's just not your day," Federer reflected, as per Express. "You can't win them all but at the same time you can give all you have."
"In the beginning of my career it was almost painful. [I'd] get disappointed, frustrated, play a terrible match at the end and you're like 'should have done so many other things, I shouldn't have behaved the way I did'. Today I can analyze it much better in the very moment. I think this is what experience is all about."
A major theme for Federer since the beginning of 2017 is how he is battling "Father Time" to keep winning titles. Speaking about his family, Federer added how his non-competitive spirit away from the court helps him be a better father and husband.
"I am very competitive on the tennis court but away from it, I'm not that competitive," Federer explained. "I'm very laid back and I think it makes me I believe a good father and good husband."
"Being a dad is a challenge in itself. You always have to figure things out. Trying to anticipate, trying to organise and at the end of the day it all gets thrown out of the window and you're just trying to figure it out again and then again and again," he said. "There's a lot that I still have to teach them and they also do get frustrated and sad when they lose. I was exactly the same so I'm happy that they are a little bit like me."
Federer is expected back in action during the grass-court season and could feature in the Mercedes Cup in Stuttgart, Germany, which takes place from June 11-17.
© Copyright IBTimes 2023. All rights reserved.