Roger Goodell Press Conference Live Stream: NFL Commissioner To Speak On Domestic Violence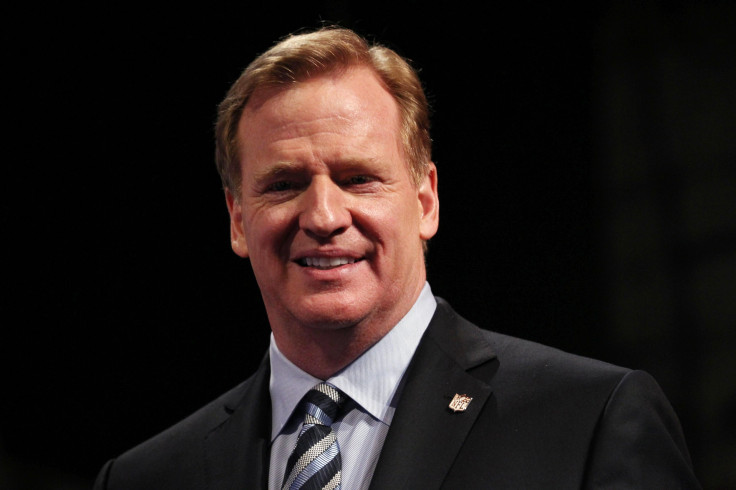 NFL Commissioner Roger Goodell will hold a press conference at 3 p.m. ET Friday to address the league's ongoing domestic violence problem and its personal conduct policy. The live stream of the press conference can be found below. Goodell also plans to field questions from the media on domestic violence issues, reports said.
Goodell's statement will mark his first public comments since Sept. 10, when he appeared on "CBS This Morning" to discuss the league's handling of former Baltimore Ravens running back Ray Rice's assault in Feb. on then-fiancée Janay Palmer. Since that interview, the commissioner has remained silent, canceling planned appearances at several public events.
The NFL announced early Friday in a press release that it would provide financial and promotional assistance to the National Domestic Violence Hotline and the National Sexual Violence Resource Center. "These commitments will enable both The Hotline and NSVRC to help more people affected by domestic violence and sexual assault," Goodell said in a statement.
"Starting this season, we will dedicate significant resources to raise awareness on the subjects of domestic violence and sexual assault, including support for victims," he added. "These are by no means final steps. We will continue to work with experts to expand and develop long-term programs that raise awareness, educate, and prevent domestic violence and sexual assault both within the NFL and in our society in general."
Over the last several weeks, the NFL has drawn intense criticism over its handling of domestic abuse scandals involving Rice, Minnesota Vikings running back Adrian Peterson, and Carolina Panthers defensive end Greg Hardy. Though both Peterson and Hardy faced criminal charges, the league has yet to discipline either player.
Public backlash against the NFL's initial two-game suspension of Rice in August prompted Goodell to announce sweeping changes to the league's disciplinary policy regarding domestic violence incidents. Any NFL player or employee who engages in such abuse will receive a six-game suspension for a first offense and an indefinite suspension for a second offense.
© Copyright IBTimes 2023. All rights reserved.