Roy Jones Jr Honors Kobe Bryant With Lakers-Inspired Gloves, Undecided On Tyson Rematch
KEY POINTS
Roy Jones Jr. paid tribute to Kobe Bryant with specially designed boxing gloves Saturday
Mike Tyson prefers to fight for a good cause over competitive boxing
Jones will consult his family about making another ring return
Mike Tyson and Roy Jones Jr. proved that they still had something to show Saturday, and there is a chance both may do it again. The scheduled eight-round exhibition fight involving the two former champions ended in a draw, and both appeared dissatisfied with the outcome.
The gloves worn by Jones during the exhibition caught the attention of many. Jones admitted during their post-fight interview that they were his way of paying tribute to the late Kobe Bryant as they were fighting in his home – the Staples Center in Los Angeles.
"[These are] my contribution to Kobe Bryant. I had to give it to Kobe because he was my latest and greatest. Michael Jordan will always be my no. 1 favorite. But Kobe and (Allen) Iverson next at second or third and Lebron (James)," Jones said.
During the interview, Jones, along with Tyson, also seemed down for another match in the future. Though branded as an exhibition fight, it was obvious that both wanted to see who still had what it takes to exchange blows in the ring.
"I don't like draws. I wear drawers, I don't do draws," Jones said.
On Tyson's end, the 54-year-old fighter stressed that he wanted to fight again. But as far as Jones is concerned, he bared that he would need to consult his family first before committing, Boxingscene reported.
"Everybody loves Mike, I love Mike too. But it's tough to take the punches from Mike, so I'll go talk to my family, see how they feel about it," Jones said.
Tyson admitted that even if the rounds were set for just two minutes, it felt like he was fighting three-minute rounds. Regardless, he is happy with the fight and plans to go further and do more.
"I'm used to doing for three minutes. Sometimes if felt like those two minutes felt like three minutes. I'm happy to get this under my belt and I'll continue to go further and do more," Tyson said.
Though most felt that Jones was the recipient of brutal punches from Iron Mike, the latter admitted that he too got hurt at some point.
"He surprised me with a hook. Yes it did hurt," Tyson said.
Seeing as how it was only an exhibition, Tyson was asked if he had any plans to transition to a competitive duel. The former boxing champion did not directly answer but said that fighting for charity is bigger than a championship.
"Nah, this is bigger than winning a championship. Helping people that is bigger. So I'm into that now," Tyson said.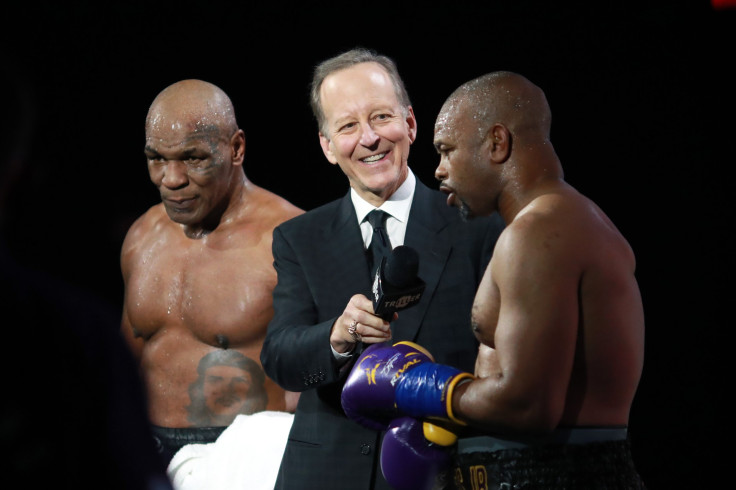 © Copyright IBTimes 2023. All rights reserved.