Rumors: Chris Paul Under The Radar Of New York Knicks In Free Agency To Guide Young Core
KEY POINTS
Chris Paul is reportedly being eyed by New York Knicks this coming offseason
Knicks President Leon Rose used to be Paul's representative
He is expected to guide RJ Barrett and Kevin Knox
Just when the Knicks are on a rebuilding phase using their young players as the core, New York are reportedly interested in bringing in veteran point guard come free agency next season.
Reports from Bleacher Report say that the long-struggling Knicks will be banking on youth but a veteran presence is still needed to set as an example to young players. Bringing in the 10-time NBA All-Star can make the team have a culture reset, which is badly needed by the team that hasn't found much success.
Paul, a former Rookie of the Year winner, leading the backcourt for New York is seen to mentor youngsters like RJ Barrett and Kevin Knox. The 35-year old point guard from Wake Forest will be able to set Barrett, Knox, and other players for better looks and utilize both of their strengths – the rookie's slashing and cut to the basket and Knox's outside jumpers.
The fourth overall pick in 2005 Draft was part of the deal that sent Oklahoma City's long time All-Star Russell Westbrook to the Rockets along with two first-round picks, allowing the latter to team up with, coincidentally, another former Thunder guard James Harden in Houston. Since the trade, Paul was in a resurgence as their starting point guard and bringing the Thunder to a 40-24 win-loss record – good for fifth place in the Western Conference just behind Los Angeles Lakers, Los Angeles Clippers, Denver Nuggets, and Utah Jazz.
His leadership will be valuable for New York just like how it went for the Thunder and one thing that can make Paul's move to New York possible is that Leon Rose, the newly-appointed president of the Knicks, used to be his representative.
Named NBA All-Star MVP in 2013, Paul is averaging 17.7 points, 6.8 assists, 4.9 rebounds, ad 1.6 steals in 63 games for the Thunder before the season was canceled due to coronavirus.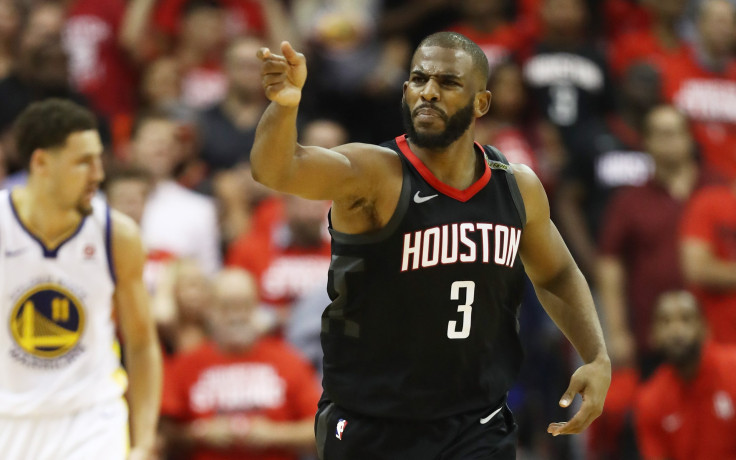 © Copyright IBTimes 2023. All rights reserved.