Rumors Swirl Over Hugo Chavez' Health and Whereabouts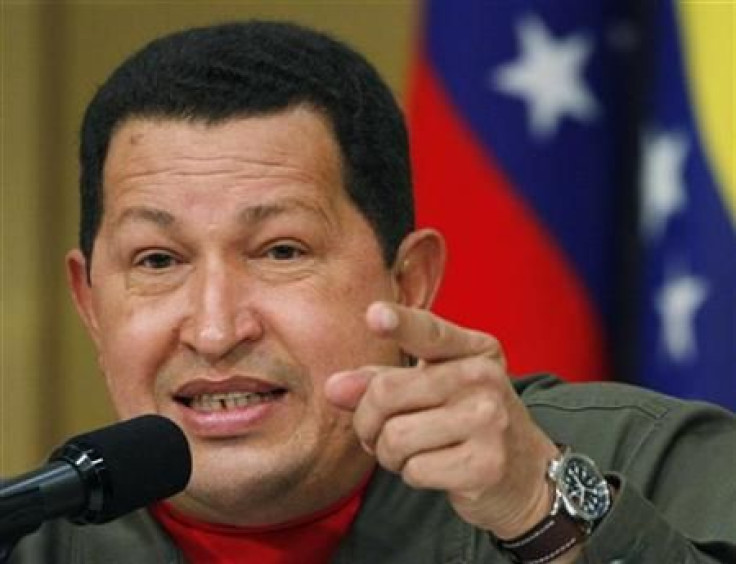 Speculation about the health and whereabouts of Venezuelan President Hugo Chavez is running wild two weeks after he underwent surgery in Cuba.
On Friday and Saturday, Chavez apparently Tweeted but mentioned nothing about his health (after an absence of the 19 days from the social media site).
Supporters of Chavez, who has not been seen in public since a June 10 operation (reportedly to remove a pelvic swelling), deny rumors that he has prostate cancer and that his enemies should stop dreaming about his impending death.
Venezuela's vice-foreign minister, Temir Porras, said on Twitter: President Chávez is recovering well from his surgery. His enemies should stop dreaming and his friends should stop worrying.
Still that hasn't stopped a swirl of rumors. Over the weekend, the Nuevo Herald, a Spanish language paper in Miami, Fla., said Chavez is in "critical condition" while WikiLeaks Argentina alleged on Twitter that he had actually died of a heart attack in Cuba.
In fact, Porras added on his tweet: The only thing that has metastasised is the cancer of the Miami Herald and the rest of the rightwing press.
Elías Jaua, the vice president of Venezuela, also claimed Chávez will return to work soon and blamed the international media for spewing rumors about the president.
Chavez is a human being who is recovering to continue the battle. The national and international right wing are going crazy, rubbing their hands together … even talking about the death of the president, Jaua said during a speech.
They know they cannot win elections against our comandante [leader]."
Another key ally of Chavez, Fernando Soto Rojas, the leader of the National Assembly, asserted that the president will attend a summit meeting on July 5-6 on Margarita Island, off the Venezuelan coast.
Chávez is recuperating and we will have him here, thank God, on 5 July, Rojas told the press on Sunday.
Chavez, 56, has been in power in Venezuela for a dozen years and apparently has not chosen a successor.
The country's foreign minister, Nicholas Maduro, has also suggested the President may be seriously ill.
The battle that President Chavez is waging for his health must be everyone's battle: the battle for life, for the immediate future of our fatherland, he said in a statement on Friday.
Opposition forces in Venezuela are concerned about Chavez' lengthy absence from public view.
Miguel Ángel Rodríguez, a leading political opponent, said Chavez' regime was failing its duty by not providing clear details about the President's health.
The uncertainty about the health of Hugo Chávez and the grave speculation about the true picture of what afflicts him reveals severe constitutional failures by the government in its duty to inform, Rodriguez said in a statement.
Other reports noted that Chavez' mother and daughter have flown to Cuba to see him.
© Copyright IBTimes 2023. All rights reserved.
FOLLOW MORE IBT NEWS ON THE BELOW CHANNELS