Russ Feingold Tears into 'Hateful' Rick Santorum, 'the Least Tolerant Person I've Ever Met'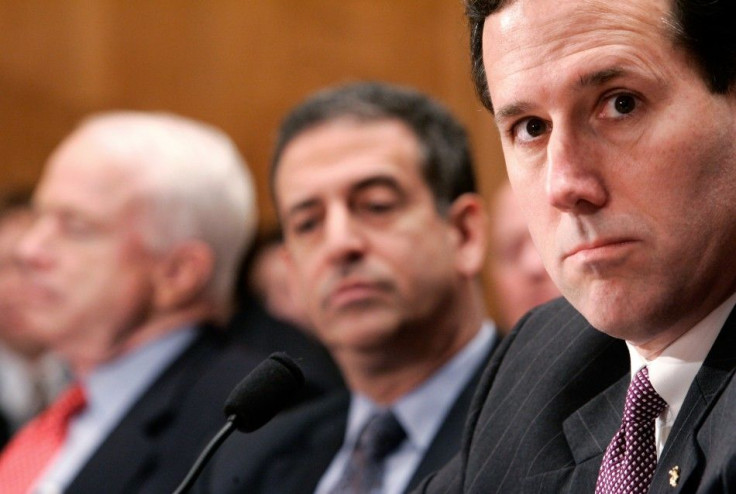 Former Wisconsin senator and Obama campaign co-chairman Russ Feingold slammed Republican presidential candidate Rick Santorum Friday as extreme and hateful, calling his view of the world shocking and saying he's glad there's no chance the candidate can beat Obama in the fall.
Feingold served in the Senate with Santorum, and is currently on tour to promote his new book While America Sleeps, his take on American policy since Sept. 11, 2001.
'His attitude is shocking.'
Feingold believes that all the GOP candidates are bafflingly uninformed when it comes to non-domestic issues, claiming they over-simplify foreign policy issues without demonstrating any real commitment to change.
They're all people who don't have a serious concern about foreign policy, Feingold told Rosie Gray of Buzzfeed Politics.
Almost all of them are using this jingoistic attempt to make Barack Obama look weak with regard to Iran.
But when Rick Santorum's name came up, Feingold was particularly blunt, saying the senator's frightening positions on social issues was more disturbing than his ignorance of foreign policy.
Rick Santorum is possibly the least tolerant person I've ever dealt with, Feingold said. His attitude towards people who are different from himself is shocking.
'They've embarassed themselves.'
Santorum has recently come under fire for a series of comments he has made regarding religious differences and hot topic social issues, from his assertion that President Obama believed a phony ideology to his claim that the Netherlands practices mass involuntary euthanasia, a statement that has prompted a furious backlash by the Dutch press.
Still, Feingold is confident that neither Santorum nor any of the other Republicans will beat Obama in the 2012 presidential election.
I think it's a weak field and they've embarrassed themselves, he told Gray. Some can't hold a position, some [like Santorum] are extreme and hateful.
The president is lucky that he's got a field there that is pretty weak.
Feingold has never been shy about going after the Republican candidates for the 2012 presidential election. In a recent interview, he called their one-track mindset for taking down Obama unpatriotic, saying they should be focusing on how to help the country instead.
"I don't want to use the word 'patriotism' too much, but the right likes to use it all the time," he told GQ magazine. "It is not patriotic to decide to destroy a new president who was duly elected by an overwhelming margin. It is unpatriotic to resolve to destroy that presidency. If you care about this country, you help him."
'This isn't a club. This is a democracy.'
It's not surprising, then, that the former Wisconsin senator will play a key role in the Obama re-election campaign.
He took a moment during the interview to discuss his new role, and to voice his disapproval of the new pro-Obama super PAC being formed for the president's re-election campaign.
Super PACs are political action committees that can accept unlimited donations from individuals and corporations but are barred from coordinating with their candidate's campaign.
Those in favor of a pro-Obama super PAC argue that the president must have one for competitive reasons, since his Republican rivals all have super PACs of their own.
Feingold, however, feels Obama should stay away from it.
I will do whatever they reasonably ask me to do, he said. [But] I'm not going to be involved in helping them with some aspects of fundraising.
I think he should stay away from the super PAC, he added, saying he didn't feel keeping up with the Republicans was a good enough reason.
This isn't a club. This is a democracy.
© Copyright IBTimes 2023. All rights reserved.