Russia Abkhazia Treaty: Russian Parliament Approves Military, Economic Agreement With Georgian Province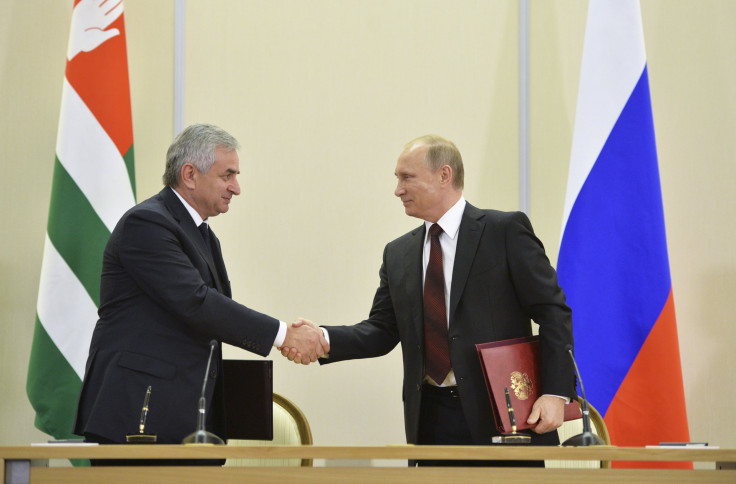 The Russian parliament Friday approved an agreement that will deepen Russia's military and economy ties with Abkhazia, a region that was considered part of Georgia until Russia recognized it as independent in 2008. Critics of the treaty, signed in November by Russian President Vladimir Putin and Abkhazian leaders, decried the agreement as tantamount to annexation.
Russia's agreement with Abkhazia places military forces in the region under joint command, the Associated Press reports. The two nations will also mutually guard their common border. Russia has had soldiers stationed in Abkhazia since its 2008 war with neighboring Georgia concluded.
Putin and Abkhazia President Raul Khadzhimba signed the agreement during a Nov. 24 meeting in Sochi, Russia. Aside from its military stipulations, the arrangement also paves the way for Abkhazia's assimilation into the Eurasian Economic Union, Russia's economic alliance with Belarus, Kazakhstan and Armenia. Georgian leaders vowed to appeal the treaty to the United Nations and various other international governing bodies, the New York Times reported.
Georgian foreign minister Tamar Beruchashvili denounced the agreement as Russia's attempt to counteract Georgia's rapidly improving political and economic relations with the European Union. "The signature of the so-called treaty constitutes a deliberate move by Russia in reaction to Georgia's European and Euro-Atlantic aspirations," Beruchashvili said in a statement.
Tensions between Russia and Georgia escalated into a brief conflict in 2008 over the disputed provinces of Abkhazia and South Ossetia. Five days of fighting killed 170 Georgian soldiers and 67 Russian soldiers. Ultimately, Russia withdrew its forces from Georgia, but recognized the independence of both Abkhazia and South Ossetia -- a move the United States condemned, according to CNN.
Russia drew international criticism in March 2014 when Putin announced the annexation of Crimea, a region previously considered part of Ukraine, after a sudden referendum. Putin said 97 percent of Crimean citizens voted to join Russia, according to CNN. Russia sent troops into Crimea in February after a revolt forced pro-Moscow former Ukrainian President Viktor Yanukovych to step down.
U.S. and Ukrainian leaders have long accused Russia of providing operational and direct support to pro-Russian separatists in eastern Ukraine. The European Union imposed economic sanctions against Russia for its actions in Crimea and Ukraine.
© Copyright IBTimes 2023. All rights reserved.