Russia Airstrikes In Syria Targeting Hospitals As Doctors Grow Disgruntled By World's Silence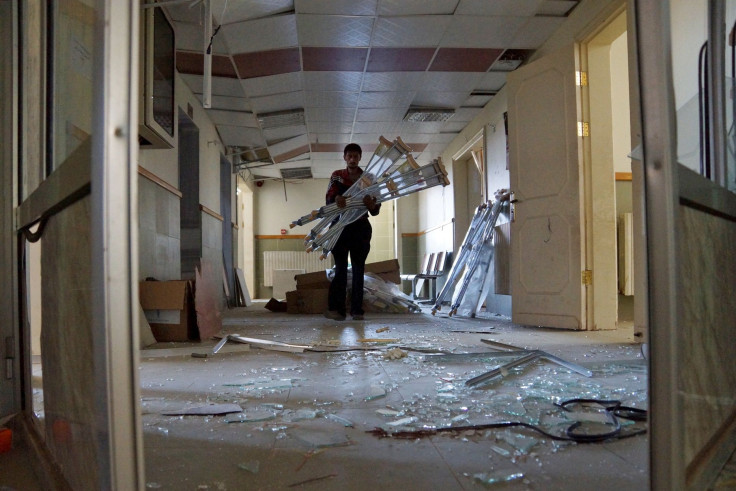 In recent weeks, Bab al-Hawa Hospital in Syria has seen a growing number of patients arriving with severed limbs and burns from bomb blasts. The hospital's proximity to Turkey has turned it into one of Syria's safest medical facilities, making it a haven for the wounded in need of emergency care as hospitals elsewhere have suffered from intensified fighting across the country.
"The situation is horrible, and it's getting worse," Zaidoun al-Zoabi, head of the Union of Syrian Medical Relief Organizations based in Germany, which supports the hospital, said. "We're getting people from all over, from Aleppo, from Hama. We work around the clock; we barely sleep, and we consume all the resources we have. We're very tired."
Russian military involvement, which began late last month, has exacerbated an already dire situation for Syria's healthcare, medical professionals told International Business Times. Since the start of October, at least seven hospitals in Syria have been damaged by Russian warplanes and a growing number of civilians have been injured in attacks. In a majority of the cases, medical officials said they believed the hospitals were the intended targets of the strikes, stirring fear the Russian military would continue the Syrian regime's routine targeting of medical facilities. The risks associated with hospitals has sent much of the country's medical staff fleeing for safety, and rights advocates worry more hospitals are likely to close as the Russian campaign intensifies.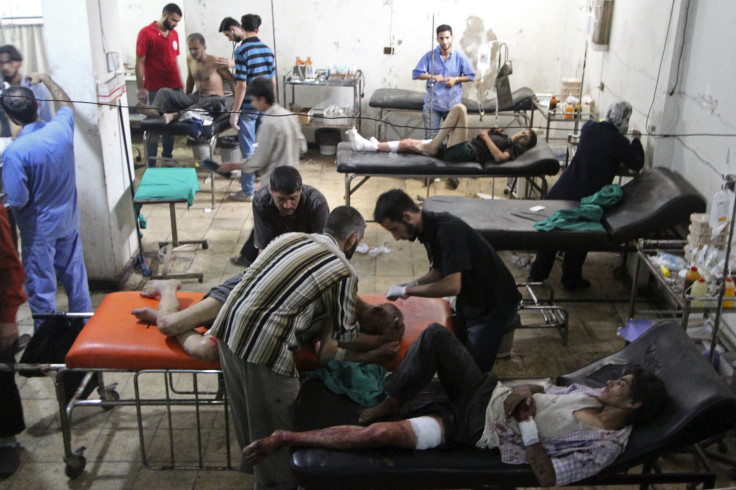 "It's a very serious concern," said Widney Brown, director of programs for Physicians for Human Rights, a New York-based organization that documents violations against medical workers and facilities worldwide. "The medical infrastructure is already decimated after four and a half years of being constantly bombed and attacked, and so there's already a lack of facilities, a lack of supplies."
Physicians for Human Rights documented at least three hospitals in Syria damaged by Russian airstrikes in a two-day span during the first week in October, and an additional three hospitals that were targeted last week. The strikes led to at least four civilian deaths and six injuries, and many of the patients were transferred to the Bab al-Hawa hospital for safety. At least some of the targeted hospitals were closed, some due to damages and others due to fear of further strikes, and various sources said there were no longer hospitals operating in southern Aleppo, an area of about 350,000 people. Another hospital was reportedly hit Tuesday in the Idlib province, the Guardian reported. At least 12 people died in the attack.
International Business Times could not independently verify that Russian airstrikes were responsible for targeting the hospitals, but witnesses reportedly said the planes flew in Russian military formation, and the strikes matched locations where Russia's military said it had launched operations. The warplanes did not use the barrel bombs that have marked Syrian government strikes. Russia sent its military to Syria in a stated attempt to battle extremist groups in the country, but its campaign has largely focused on battling anti-Assad rebels, including some that were supported by the U.S. and other Western countries.
The attacks come as Syria's health infrastructure has been devastated by more than four years of a multifaceted, bloody civil war. Physicians for Human Rights has documented more than 300 hospitals that have been attacked since war broke out in 2011, and some 670 medical staff that have been killed. A vast majority of the attacks on hospitals, at least 90 percent, have been carried out by the Syrian government.
Hospitals, particularly in rebel-held areas, are strapped for funds and resources. Experts said hospitals have routinely been forced to perform unnecessary amputations due to a shortage of alternative medical options. Some 212,000 people live in besieged areas, where it's particularly difficult to secure needed medical resources, and some 4.8 million people live in hard-to-reach areas, according to the Syrian American Medical Society.
"We believe they are trying to weaken civil society," said Jomana Qaddour, a co-founder of Syria Relief and Development, based in Kansas, which supports humanitarian assistance and medical care in Syria. "I can't speak as to their targeting of armed groups, but as to civic centers, schools, hospitals, we're certainly not the only organization that has suffered and been suffering since Russian involvement."
One of the hospitals affiliated with Qaddour's organization was among those targeted in Aleppo last week. Most of those being treated in the hospital were civilians, she said. Hospitals treat anyone in need, including rebels, Qaddour said, and have also at times treated soldiers fighting with the Syrian government, but no one is allowed inside hospitals wearing military attire or carrying weapons.
To enhance security, some hospitals have built underground bunkers or, in some areas, set up units in caves. Others have operated out of field hospitals and small structures scattered around their cities to limit damages. Top floors of hospitals, which are most susceptible to attacks, are mostly out of commission.
Mohamad Katoub, of the Syrian American Medical Society, who has been based in Turkey for the last year, previously worked as a doctor in eastern Ghouta, near Damascus, which has seen some of the fiercest fighting since the Syrian war broke out. Eastern Ghouta was notably the site of a chemical attack by the Syrian regime in 2013 that left possibly more than 1,000 dead. The risk associated with working at hospitals has driven about 90 percent of doctors away from eastern Ghouta, many of them seeking safety in neighboring countries, causing a severe shortage of medical staff that has forced hospitals to rely on unskilled workers. Elsewhere in the country, doctors have also fled. Before the war, Aleppo city had 2,000 physicians. Just 40 remained as of May 2014. Katoub said some hospitals have begun building structures far from city centers – not only to protect hospitals from becoming collateral of Syrian attacks in the city but also to protect civilians in the city from being injured or killed by attacks on hospitals.
"Instead of being afraid of being near a military group, the military groups are afraid of being beside a hospital. That's the situation in Syria," Katoub said. "[The Russians] are continuing the policy of the regime... It's not by mistake, it's not by chance: it's a strategy."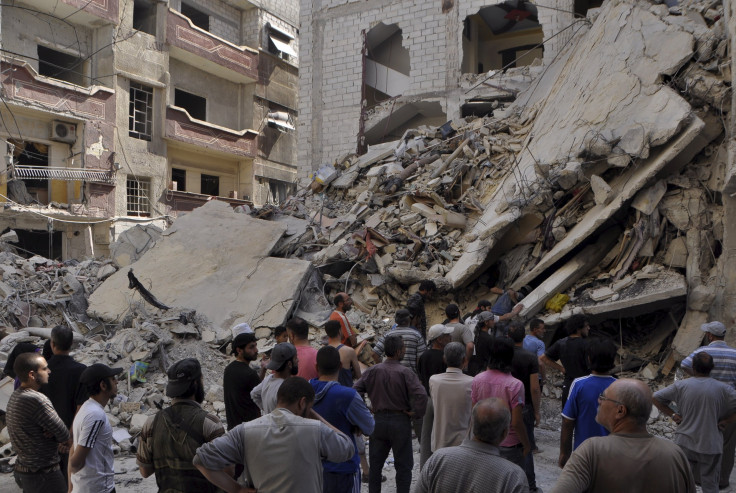 Katoub has been advocating internationally on behalf of Syrian hospitals, including the one in eastern Ghouta where he remains a volunteer medical director, for more than a year. He said he wished the international community would put more pressure on the Syrian and Russian governments to force them into ending their targeting of civilian centers. He has grown hopeless as the war has persisted and international outreach has had limited effect.
"In Afghanistan, one hospital was targeted," Katoub said, referring to a hospital that was struck by U.S. forces in the northern city of Kunduz and left 22 dead Oct. 3. "There was an investigation… while in Syria we are talking about 70 hospitals targeted [this year,] and there's nothing."
"I have seen compassion from governments, but that's not enough," he added. "Syrians are being killed every day."
© Copyright IBTimes 2023. All rights reserved.
FOLLOW MORE IBT NEWS ON THE BELOW CHANNELS