Will Russia's Role In Syria Help Or Hurt ISIS? Islamic State, Al Qaeda Likely To Spread, Analysts Say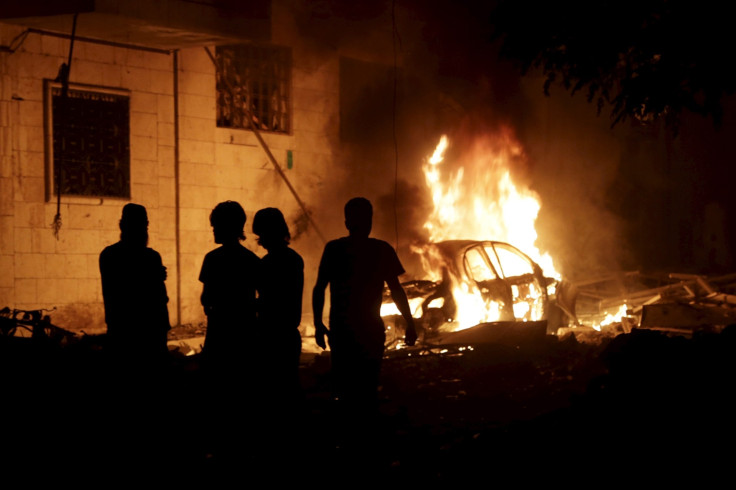 Russian officials Monday were reportedly mulling over a proposal by U.S. Secretary of State John Kerry to work with the U.S. and states in the Middle East to find a political solution for the Syrian civil war. Following last week's deal to share Syria's airspace in a stated attempt to avoid collisions and ensure air safety between the two Cold War rivals, some critics fear U.S. apprehension over Moscow's role in the region is easing.
"It's speech only," Tyler Jess Thompson, a policy director for United for a Free Syria, a Washington-based organization, said of America's criticism of Russia's intervention. "The United States is ignoring the grander game Russia and Iran is playing in Syria."
The U.S. has taken a public stance opposed to Russian intervention in Syria, which has largely been seen as bolstering the country's embattled President Bashar Assad. Many Americans have grown wary of further entrenching the U.S. military in a messy and protracted Middle Eastern conflict. Beyond the fight against the Islamic State militant group, also known as ISIS or ISIL, analysts said many Americans seem to believe there are limited viable alternatives to supporting the Syrian regime and handing over the reins of the conflict to Russia in a situation where the U.S. has seen little gain. But Russia's role in Syria is likely to worsen the war, not end it, by bolstering al Qaeda and ISIS, whether intentional or not, experts warned.
"I think it's tempting for a lot of Americans to see Russia's entry into the Syrian civil war of relieving a sense of burden or requirement," Jennifer Cafarella, an analyst with the Institute for the Study of War's Syria team in Washington, said. "There's a desire to see Russian involvement as something constructive, but reality is unfortunately the opposite."
A recent poll suggested about 40 percent of Americans wanted the U.S. to stay out of the conflict in Syria, and about 72 percent said the U.S. military should not fight Assad's army. For comparison, more than 80 percent of Americans supported war with Afghanistan in 2001, a Gallup poll found. While the U.S. has supported campaigns against both Assad and ISIS through funding rebels, and the U.S. has launched an air campaign against ISIS, experts said the government has taken a relatively restrained approach.
The cautious approach signals America's heart isn't fully in the fight, particularly as the U.S. has seen other countries, like Iraq and Afghanistan, spiral deeper into chaos following U.S. intervention, said Joshua Landis, director of the Center for Middle East Studies at the University of Oklahoma. Both wars dragged on longer than initially planned and cost significant American money and lives. The Iraq war in particular has remained unfavorable in U.S. public opinion.
"I think America wants to abjure what's going on in Syria and stick with its talking points of democracy promotion. At the same time, it doesn't want to get involved deeply," Landis said. "They want to be on the side of angels but let someone else do the dirty work and fix it."
He further doubted that the U.S. has a strong strategy in the region, and speculated that many Americans could relate with Republican front-runner Donald Trump's stamp of approval for a greater Russian presence in Syria. "There was a hush all across America, because a lot of people started scratching their heads and said, 'Why not? He's right,'" Landis said.
Russia's military began an airstrike campaign in Syria late last month. Although Russian officials said they would target ISIS, much of their campaign has focused on other anti-regime rebels, including some groups that have received backing from the West. While many believe Russia may be able to play a productive role in combating ISIS, U.S. politicians and experts have expressed concern that in trying to bolster Assad, they would also inadvertently aid Islamic extremist groups.
From the very start of Russia's airstrike campaign, ISIS has registered significant gains in areas of northwestern Syria, according to the New York Times. As other rebel groups were viewed to pose a greater threat to Assad's government, ISIS has become a secondary target for the Russian military.
"In the absence of Western involvement, groups like ISIS and al Qaeda have filled in the vacuum," said Anna Borshchevskaya, an expert on Russian policy in Syria at the Washington Institute for Near East Policy. Borschevskaya added that Russia's influence in the region works against long-term U.S. interests, as Russian President Vladimir Putin seeks to use the conflict to boost his image on the international stage.
Many Americans are skeptical of further U.S. involvement, as it so far has failed to yield significant results in Syria, analysts said. It was announced this month that the U.S. had ended a program meant to train Syrian rebels to combat ISIS. Only "four or five" rebels continued to fight with the U.S.-trained forces as of September, a senior U.S. commander said. And despite a U.S. airstrike campaign against ISIS, the militant group continued to make gains.
While some experts said the U.S. needs to boost support for Syrian rebels on the ground -- even widening the groups they support -- others said Russian involvement in the region has already complicated long-term U.S. options.
"I think particularly, now that Russia's intervened, [Obama's] going to use more caution," Brad Stapelton, a visiting research fellow on defense and foreign policy for the Cato Institute, a Washington think tank.
"One reason to refrain from the temptation to do things like arm the rebels in opposition to Russian intervention: I don't think a proxy war will do a lot to improve the situation. It will probably just end up getting more people killed," he said.
Landis said the U.S. is likely to do just enough to keep allies in the region satisfied. "We want to keep Jordan, Turkey and Lebanon happy. We have a whole bunch of allies. It's like saying, 'Yes, dear,' to your wife ... but we've done regime change in all these countries, and all we've gotten was a bunch of sand in our hands."
FOR FREE to continue reading
✔️ Unlock the full content of International Business Times UK for free
offer available for a limited time only
✔️ Easily manage your Newsletters subscriptions and save your favourite articles
✔️ No payment method required
Already have an account? Log in
© Copyright IBTimes 2023. All rights reserved.