Russia Alcohol Imports Down Amid Plunging Oil Prices And Sliding Ruble Value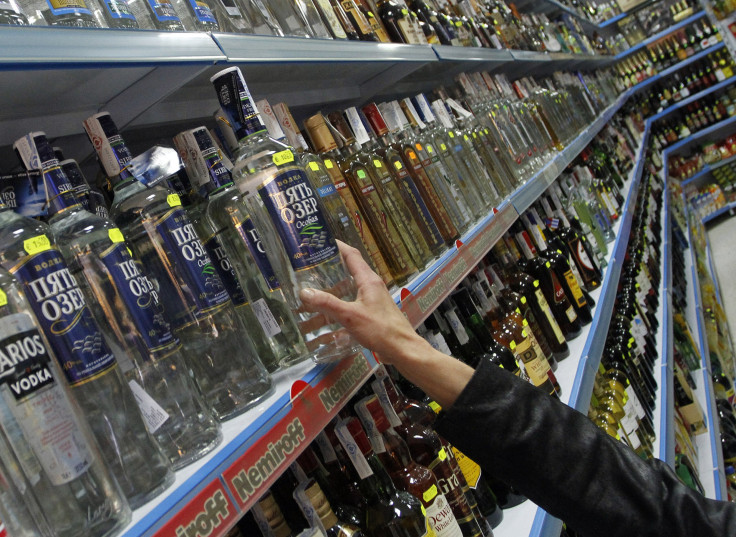 With the price of liquid gold falling and the ruble tumbling to a low not seen in 18 years, Russians are cutting back on another favorite liquid: alcohol. Imports of alcohol to Russia dropped off in 2015, with vodka and whiskey hit the hardest, the Moscow Times reported Thursday.
Whiskey, the most popular imported alcohol, fell by 22.3 percent while rum imports were down by 35 percent. Russian consumption of imported wine was also down by over 32 percent, local newspaper Kommersant reported. The report added that prices of imported alcohol could soon increase if Russia's economic environment remains unchanged.
Russians are known for their love of alcohol — and the problems that can come from having too much of it, including early deaths caused by alcohol poisoning, cirrhosis, accidents and suicide. Data from the World Health Organization in 2012 found that Russia had the highest global rate of mortality attributable to alcohol consumption at 30.5 percent, with men having a life expectancy of only 65 years.
Statistics released Monday showed that alcohol consumption in Russia has declined in recent years. In 2009, the average citizen consumed 9.1 liters of pure alcohol a year while in 2014 the average was 8.3 liters. Despite the decline, Russia's consumer watchdog reported that almost 500,000 people a year die due to alcohol abuse and that 33 percent of young men and 20 percent of young women have an alcoholic drink almost every day.
Russia's ongoing conflict with Ukraine has also affected alcohol consumption. Vodka imports fell almost four times in 2015, with popular brands from Ukraine contributing to the steep decline. Kiev banned 70 additional Russian goods Wednesday as the neighboring countries continue to escalate a tit-for-tat economic trade war alongside the military conflict that started in April 2014 after Russia annexed Crimea.
The combination of low oil prices and Western sanctions over the Crimea annexation have hit the Russian economy hard, with government leaders saying they are planning for a worst-case scenario if prices do not recover in the near term. Oil prices have fallen to below $30 a barrel from a high of over $100 a barrel 18 months ago, and Russia's commodity-dominant economy has felt the hit coupled with the ruble falling to 80-to-one.
© Copyright IBTimes 2023. All rights reserved.