Russia Irate Over Britain's Block Of Ship Carrying Arms To Syria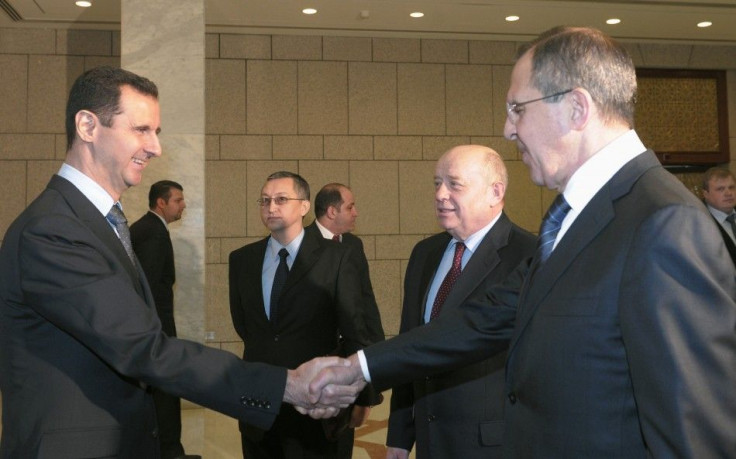 Moscow is fuming after Britain pressured a Russian ship headed for Syria to change it course, saying that by asking insurer Standard Club to revoke its coverage, the UK was breaking international laws.
Russia received widespread criticism last week when it was reported that a boat carrying up to 25 helicopters was on its way to Syria, where the government has been engaged in a 16-month-long crackdown against dissidents that has left around 15,000 people dead. Nonetheless, Russia was determined to let the shipment reach Bashar al-Assad to honor a previously signed contract.
On Wednesday, the ship changed course in the North Sea, turned around and salied back to the port of Murmansk after its insurance was pulled.
This is a very slippery slope, Foreign Minister Sergei Lavrov said in an interview with Russia Today. This means that anyone -- any country or any company -- who is not violating any international rules, who is not violating any U.N. Security Council resolutions, might be subject to extraterritorial application of somebody else's unilateral sanctions.
Lavrov and President Vladimir Putin have been increasingly critical of the international community's attempts to intervene in Syria. Russian foreign policy dictates that no state should, nor has the right to, impose its will on a sovereign nation, and Lavrov deemed the European Union-imposed trade embargo with Syria illegal on Thursday. Additionally, Russia has vetoed two separate Security Council resolutions against Assad's government.
But Russia also has a vested interest in maintaining its decades-old relationship with Syria, which is in large part built on weapons and defense contracts. Russia is Syria's main arms supplier, and Syria is Russia's 7th largest weapons customer -- 10 percent of all of Russia's global arms shipments go to Damascus, while 80 percent of Syria's weapons are Russian-made.
Indeed, the helicopters on the cargo ship were, according to Moscow, bought during the Soviet-era and shipped back to Russia for repairs years ago and were just now being returned.
But arguably the Kremlin's biggest draw to Syria is the Tartus naval base, which has been operated by the Russians since the 1970s. Tartus gives Russia its only presence in the Mediterranean, and Russia even forgave Damascus of billions of dollars in debt in order to keep it.
Moscow wants to protect the Assad regime at all costs. The Kremlin knows it well that once Alawite-led regime falls, the future of Tartus military base will be in peril, said Dilshod Achilov, a professor of Middle East politics at East Tennessee State University. There is hardly anything that can push Russia to substantially change its current foreign policy toward Syria.
Russia has condemned Assad for his trivial reforms and the bloodshed in Syria but largely takes the Syrian president on his word when he says that terrorists are responsible for massacres and attacks on civilians. U.S. Secretary of State Hilary Clinton has said that Russia is dramatically escalating the crisis in Syria by continuing to arm Assad under these pretenses.
The Arab League, which still hopes that a peace plan drafted by Kofi Annan can work, has also pleaded with Russia to stop shipping weapons to Syria, especially as the assault on the city of Homs continues.
Any assistance to violence must be ceased, because when you supply military equipment, you help kill people. This must stop, Arab League Deputy Secretary General Ahmed Ben Hilli stated.
Meanwhile, a report in the New York Times on Thursday claimed that the CIA has sent agents to Turkey to begin helping Saudi Arabia and Qatar to smuggle weapons -- including automatic rifles, rocket-propelled grenades, ammunition and some antitank weapons -- to Syrian opposition fighters.
© Copyright IBTimes 2023. All rights reserved.
FOLLOW MORE IBT NEWS ON THE BELOW CHANNELS