Russia, Kazahkstan and Belarus Sign Economic Union Treaty, But Declare It Is Not A Soviet-Era Agreement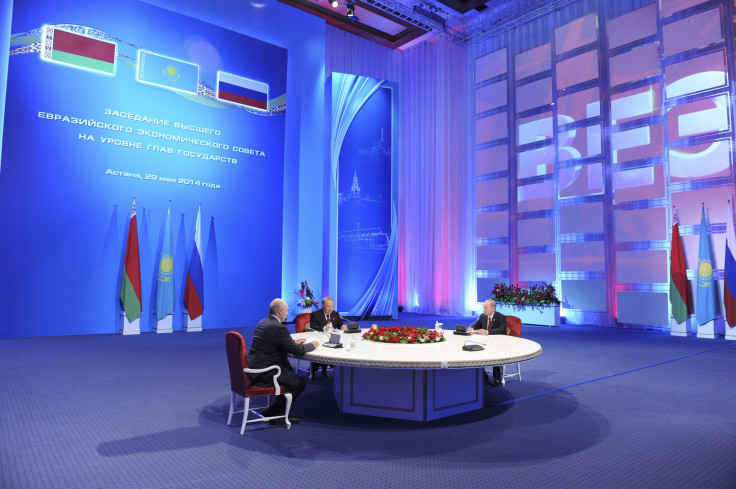 The leaders of Russia, Kazakhstan and Belarus met and signed a treaty on Thursday that formally creates the Eurasian Economic Union (EEU), a partnership they hope will rival the European Union and the major economic players on the world stage. The fourth prospective signee, Ukraine, was not in attendance.
The pact represents the culmination of 20 years of talks and formal negotiations since Kazakhstan's President Nursultan Nazarbayev first proposed it in 1994. It evolved out of the Commonwealth of Independent States and Customs Union.
The EEU will have a combined $2.7 trillion economy and unites 170 million people. Armenia and the Kyrgyz Republic (Kyrgyzstan) are expected to join later this year to bring their $20 billion and $13 billion economies into the union. The agreement goes into effect on January 1, 2015.
A press release from President Putin's office states that "the three states undertake to guarantee the free movement of goods, services, capital and workforce and to implement a coordinated policy in such key branches of the economy as energy, industry, agriculture and transport."
Despite the celebratory air about the meeting, there was one empty seat at the discussion table that is not likely to be filled any time soon. Ukraine was set to join back during Viktor Yanukovych's time as president, but his decision to lean towards Russia and the EEU instead of the EU contributed significantly to his ouster earlier this year. Ukraine would have been the second-largest economy in the EEU at $335 billion. That's $100 billion bigger than Kazakhstan and $190 billion bigger than Belarus.
The three leaders were largely mum about Ukraine, but Belarus President Alexander Lukashenko mentioned that the group had "lost someone along the way," and continued that he was "certain that sooner or later the Ukrainian leadership will understand where its happiness lies. At least they will not lose what should rightly belong to the Ukrainian nation."
Lukashenko also said he thought that the economic union "will become a foundation of our political, military and humanitarian unity," but Kazakh president Nazarbayev was insistent that there would be no political or military integration. He vowed to the people of Kazakstan that their country would not lose any sovereignty in the union.
While some in the West worry the union is just the next step in bringing back the Soviet Union, its Kazakhstan and Belarus that claim to be the most fervently opposed to a new Soviet Union.
"If Russia wants anything in the agreement, it needs our consent," said Kazakhstan's first deputy prime minister Bakytzhan Sagintayev to USA TODAY. "During the Soviet Union, no one asked us, they just called us over to Moscow, handed us a paper and told us what to do."
"It is a pragmatic means to get benefits," he continued. "We don't meddle in what Russia is doing politically, and they cannot tell us what foreign policy to pursue."
Regardless of how the union will play out in the future, bringing the economies of former Soviet states back under Russian influence is a huge step for Russia in establishing itself as an economic powerhouse. As the New York Times points out, Kazakhstan has drifted away from Russia and towards Europe over the years. In 1995, 47 percent of its exports went to Russia. In 2011, only 9 percent went there, while 40 percent went to Europe.
As enthusiastic as leaders may be, the general population doesn't seem as enthused about the EEU deal. A group of Kazakhstani's protested outside the signing ceremony, holding signs saying "Protect Yourself from Russia's Imperial Virus!" and other anti-Russian slogans.
President Lukashenko also mentioned gripes among Belarusians. "They compared integration to a 'kettlebell tied to the legs of Russia," said Lukashenko.
"How many opponents emerged both in the West and in the so-called 'near abroad'? And not even overseas, but in our countries as well! And not only among the opposition (it is their job to criticize), but also among some government officials (especially liberals). We heard all kinds of complaints! They claimed that integration is about the revival of the Soviet empire and the loss of sovereignty."
This graph, courtesy of the Heritage Foundation, compares the economic freedom of each of the EEU's countries. Belarus looks to gain the most, but the EEU agreement could help all three countries boost their "economic freedom" by creating a larger and more open market:
Read more about Russia, Kyrgyz Republic , Belarus Economy. See more from the 2014 Index.
FOR FREE to continue reading
✔️ Unlock the full content of International Business Times UK for free
offer available for a limited time only
✔️ Easily manage your Newsletters subscriptions and save your favourite articles
✔️ No payment method required
Already have an account?
Log in
© Copyright IBTimes 2023. All rights reserved.