Russia Loses Its Most Advanced T-90M Tank In A Direct Hit At Kharkiv: Report
KEY POINTS
The image shows the T-90M still smoldering from what appears to be a direct hit
The T-90M is the most advanced tank within Russia's frontline military arsenal
Estimates suggest that only 100 or so T-90Ms are currently in service
The Russian troops, facing stiff resistance from the Ukrainians, have suffered a major blow with Kremlin losing its most advanced T-90M Proryv-3 (Breakthrough-3) battle tank. An image of the mangled battle tank was posted on Twitter by a Kyiv-based media reporter. It shows the T-90M still smoldering from what appears to be a direct hit. Though the location is unclear, the tweet suggests it is somewhere within Ukraine's northeastern Kharkiv Oblast. The post was shared by The Kyiv Independent's defense reporter Illia Ponomarenko on Wednesday.
According to a report by The Drive, the T-90M is the most technologically advanced and capable tank within Russia's frontline military arsenal. The much-hyped T-90Ms were handed over to the Tamanskaya Motor Rifle Division, a unit of the Guard Tank Army deployed in the Western Region, only in April 2020.
Recent estimates suggest that only 100 or so models are currently in service. And, the only better model is the T-14 Armata main battle tanks, which aren't yet ready for frontline combat.
Besides an improved 125mm smoothbore main gun, the T-90M also has advanced armor-protection and countermeasures capabilities. It also has slat armor in places and can also be equipped with net armor, both of which improve its defenses against rocket-propelled grenades. Besides smoke grenade launchers, the T-90M has sensor and fire control enhancements and environmental and propulsion systems. However, many of these upgrades don't seem to have helped it on the battlefield.
The report added that Russia bringing the tank to the battleground reflects Moscow's readiness to commit such high-end material in battle. First reports that the Kremlin committed some of its limited supply of T-90M tanks to the conflict began to surface in April with videos circulating on social media showing a crudely concealed T-90M tank in Kharkiv Oblast.
Not just the T-90M, Russia had also had to deal with the loss of other tanks too, including the Soviet-era T-72 and T-80 models. Recently, Russia has lost its only prototype of the T-80UM2 experimental main battle tank. The mangled remains of the tank, called "Black Eagle," were spotted in Sumy Oblast, in northeastern Ukraine. The Black Eagle may have been a part of a larger convoy of Russian vehicles that came under attack by the Ukrainian Armed Forces. While the turret of the tank seems to have been destroyed, its hull was seen charred, though it is clear what hit it.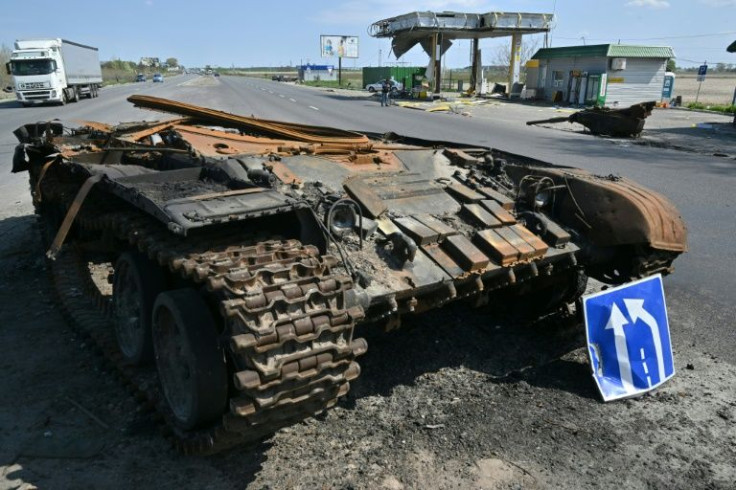 © Copyright IBTimes 2022. All rights reserved.
FOLLOW MORE IBT NEWS ON THE BELOW CHANNELS