Russian Soldiers Destroy Own Tank To Avoid Fighting Ukraine Troops: Report
KEY POINTS
The Russian soldier said they were given 10 tanks at the start of the war
The soldiers deliberately destroyed the last tank remaining in the unit
The soldier said they now had no equipment to use in the war in Ukraine
Russian soldiers in Ukraine have resorted to breaking their own equipment to avoid fighting in the war, an intercepted phone call has revealed.
Ukraine's Security Service on Tuesday released a recording of the intercepted call where one Russian soldier was heard saying they were given 10 tanks at the start of the war and only one remained in his unit two months into the invasion. He said they deliberately destroyed the last tank available in their unit to flee the battle.
"We have one tank left in the regiment. So, we ourselves broke our tank in the morning not to go (to battle). The APCs went without us, and there were three killed and quite many wounded, in serious condition," the soldier told his father.
The soldier's father asked if destroying the last tank meant they no longer had any equipment to fight with, to which the soldier said yes.
"Well, thank God! Disassemble it, sell it for scrap metal, you'll be safer," the father said.
It is unclear when and where the phone call was intercepted. The Security Service did not provide more details about the call.
The newly-released recording is the latest evidence of the declining morale among Russian troops. On Saturday, the Security Service released another recording where a Russian soldier was heard saying he was ready to hammer shrapnel into his body if that meant he would not have to fight in the war.
"Yes, damn it, I'm thinking of f**king my hand on some corner and leave ... And say that it was hit with shrapnel. And go home, for f**k's sake, with three million ... Or f**king hammer a fragment in my leg…" the soldier told his girlfriend in the call.
Some Russian commanders have resorted to shooting at their own soldiers to force them to fight in the war, as revealed in another recording of an intercepted phone call.
The low levels of morale among Russian troops may be caused by the rising number of deaths among both soldiers and high-ranking military officials on their side as the war stretches into its third month. As of Tuesday, Ukrainian forces killed at least 24,200 Russian soldiers, according to the country's Defense Ministry.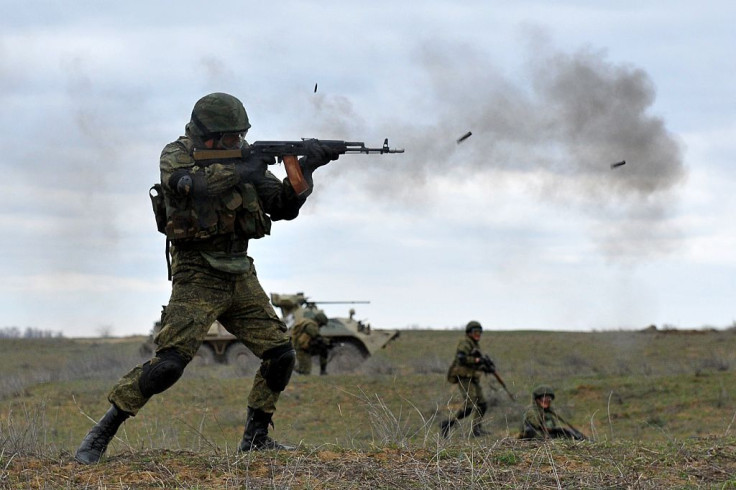 © Copyright IBTimes 2023. All rights reserved.