Russia MiG-31 Fighter Shoots Down Cruise Missile During Military Exercises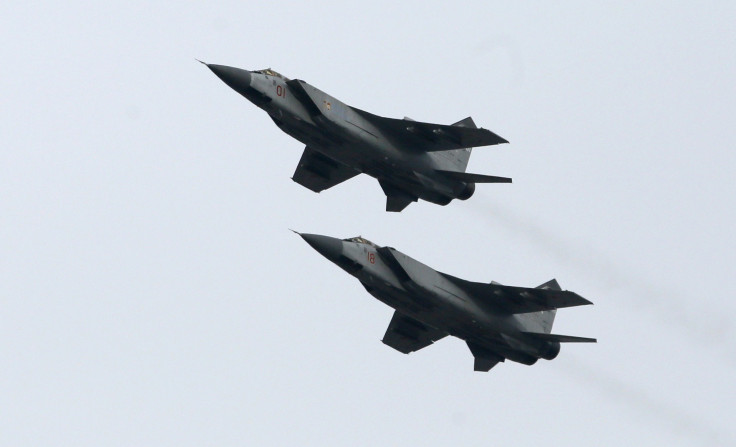 A Russian MiG-31 fighter plane intercepted and destroyed a cruise missile that another Russian bomber fired as part of a simulated mission, the Russian Defense Ministry said Thursday. Approximately 250 Russian military aircraft participated in snap-readiness drills this week in the country's Northwest, the latest in a series of training exercises that have drawn the ire of Western nations in recent months.
"The cruise missile was destroyed at an altitude of 300 meters above the ground from a distance of 10 kilometers (6.2 miles) from the target," the Russian Defense Ministry said in a statement, as quoted by Russian-owned outlet Sputnik News. The snap-readiness drills were expected to take place through Thursday.
Russian officials have emphasized pilot training and aerial combat exercises in recent months as part of President Vladimir Putin's plan to modernize the nation's armed forces by the end of the decade. Approximately 12,000 Russian troops and 250 military aircraft were tapped to participate in this week's training. Participating military personnel were trained in aerial combat tactics, reconnaissance and simulated missions, such as countering a hypothetical enemy missile bombardment, Russian outlet TASS reported.
The United States, the European Union and members of the NATO military alliance have been critical of the pronounced uptick in Russian military activity and aggression since last year. Russia has drawn international condemnation for its annexation of Crimea in March 2014 and purportedly direct involvement in the eastern Ukraine conflict, which has killed more than 6,100 people.
Concern over Russia's actions has led NATO to seek increased cooperation with Eastern European nations that border Russia, such as Latvia and Moldova. Moreover, NATO has expressed concern about the motivation behind Russia's snap-readiness drills.
"We are concerned by the size, scale and frequency of Russia's snap exercises," a NATO official told CNN on condition of anonymity. "Three of them have included over 80,000 troops. Some of them have been used to deploy troops to annex Crimea, mass forces on Ukraine's border and support the [pro-Moscow rebels in Ukraine]."
© Copyright IBTimes 2023. All rights reserved.