Russia MiG-31 Fighter's Arctic Navigation System Can Operate In Extreme Weather Without Satellites, Official Says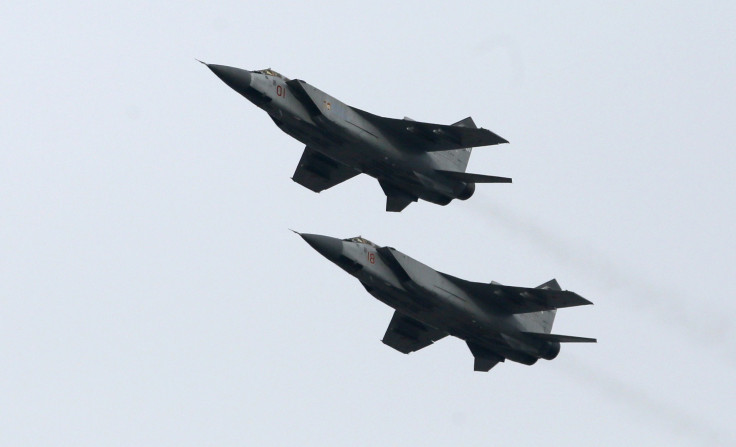 Russia's MiG-31 fighter planes active in the Arctic will be outfitted with a new navigation system capable of operating independently of satellite feeds and regardless of low temperatures, a Russian manufacturing official said Tuesday. The development was announced weeks after Russia held training exercises for its armed forces by land, sea and air as part of Moscow's bid to expand its military presence in the Arctic.
"This aircraft will be equipped with new navigation means – a strap down inertial navigation system," Vladimir Mikheyev, an official with Russia's state-owned Concern Radio-Electronic Technologies, told TASS. Russia MiG-31 fighters will also receive a new radar system, he added.
The fighters' new navigation system was specifically designed to function in the Arctic's extreme weather conditions. The technology allows pilots to navigate without ground communication or a satellite feed and remains operational in the event of a partial electronics failure, TASS noted.
Earlier this month, a spokesman for Russia's Northern Fleet said its forces in the Arctic had launched unmanned reconnaissance drones that were tested in advance to confirm their viability in extreme weather conditions. The unmanned aerial vehicles, or UAVS, had a flying range of up to 93 miles and were capable of transmitting video day or night, Capt. Vadim Serga told TASS.
Russia President Vladimir Putin ordered massive military exercises in the Arctic last March despite public criticism from the European Union, the United States and NATO regarding the recent increase in Russian military activity. The snap-readiness drills, which occurred over a five-day period, involved some 38,000 Russian military personnel, 100 aircraft and more than 50 naval vessels, the Associated Press reported.
An unnamed official from Russia's Defense Ministry confirmed in April that the Kremlin planned to build a "self-sufficient" military force in the Arctic by 2018. The unit would reportedly include Air Force personnel and an air defense component.
"The Russian military group in the Arctic will be built up on the mainland and on the islands. This buildup is already in progress. By 2018 there will emerge a self-sufficient group incorporating radio reconnaissance companies, the way it was in the past," the official told TASS.
The European Union targeted Russia with economic sanctions late last year for its purported involvement in the eastern Ukraine conflict. Foreign ministers from EU member nations decided Monday to extend the sanctions through January 2016 so the conglomerate could assess Russia's commitment to the Ukraine peace process.
© Copyright IBTimes 2023. All rights reserved.
FOLLOW MORE IBT NEWS ON THE BELOW CHANNELS