Russia Military Drills 2015: Putin Adds More Troops To Nation-Wide Exercises Amid Growing Tensions Over Ukraine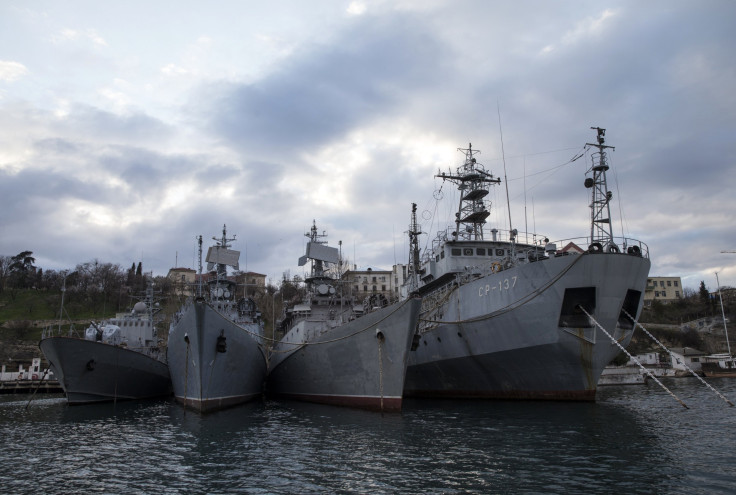 Russia is doubling the number of troops participating in mass military drills ordered by President Vladimir Putin this week to 80,000 amid growing tensions with European Union leaders over Ukraine. Putin on Monday ordered the drills across Russia, including in the volatile southern Caucasus. He also directed nuclear bomber jets to be deployed in Crimea as Russians celebrated the first anniversary of its annexation from Ukraine by Moscow.
More troops were added to the drills Thursday. Russia's chief of general staff, Valery Gerasimov, said the "number of troops taking part in the exercises has gone up to 80,000, and the number of aircraft has increased to 220," according to RIA Novosti state news agency. Russia launched massive military drills in February along its borders with the Baltic states.
Ukraine and European and U.S. leaders have accused Moscow of sending thousands of troops over the border to back a pro-Russian rebel movement aimed at protesting Kiev's growing relationship with the West. A London think tank published a report last year that warned of the increased risk Russia's military incursions in international airspace posed on civilian flights.
European Union leaders vowed Thursday to continue economic sanctions against Russia until a Ukraine peace deal is fully implemented. "If things deteriorate on the ground, we will strengthen sanctions. If, on the other hand, the situation remains stable and improves, then we might envisage a re-examination of the scale of the sanctions package and possibly ease it," a French diplomatic source said, according to Reuters.
Ukrainian Prime Minister Arseny Yatseniuk said EU leaders should increase the sanctions if Russia failed to implement a peace deal. "If Putin splits the unity ... among the leaders of the EU member countries, this will be the biggest success story of President Putin and this will be a disaster for the free world," he told reporters in Brussels.
© Copyright IBTimes 2023. All rights reserved.