Russia Planning Moldova Invasion? Putin's Sidekick May Have Accidentally Leaked Secret Plans
KEY POINTS
The image was taken during Alexander Lukashenko's meeting with security officials
Ukrainian officials alleged Belarus had now joined the war alongside Russia
Lukashenko appeared to be talking about an attack from Ukraine into Moldova
As Russian forces continue their invasion of Ukraine, a photo of Belarusian President Alexander Lukashenko with a "battle map" has raised concerns over the possible next target.
The image was taken during a meeting Lukashenko held with security officials Tuesday.
The image shows Russian President Vladimir Putin's sidekick standing in front of a map of Eastern Europe. The unusual markers in the map gave rise to speculation that Belarus might be mulling an "invasion" of Moldova.
The image came as Ukrainian officials alleged Belarus had now joined the war alongside Russia, even though Lukashenko had previously said his country had no plans to join the fight.
Moldova has a population of about 2.6 million, and is not a member of NATO.
Lukashenko appeared to be talking about a planned attack from southern Ukraine into Moldova, the New York Post said. The image also showed lines of attack, which has already been carried out by Russia.
Belarusian journalist Tadeusz Giczan noted the map showed what likely seemed to be a planned attack of the Moldova breakaway state of Transnistria through Ukraine's port of Odessa.
"We planned today's meeting with the government to discuss a number of the country's most important economic issues. However, recent events in the world, and most importantly, their speculative interpretation in the media, the internet, especially from our self-exiled opposition with their brazen lies, predetermined a new format of the meeting to include members of the Security Council and our experts. I can see that there is a need for a clear analysis of the events in Ukraine, taking into account their prerequisites on the basis of reliable facts," Belarus' head of state said in a statement.
U.S. Secretary of State Antony Blinken said last week Putin wanted to create a new "Soviet Empire," and was convinced the latter would use all means possible to achieve the goal, the West Australian reported.
"You don't need intelligence to tell you that's exactly what President Putin wants," Blinken said."He has made clear he'd like to reconstitute the Soviet Empire, short of that he'd like to reassert a sphere of influence around the neighboring countries that were once part of the Soviet bloc."
Blinken said NATO would stand in the way of Putin's ultimate goals.
"When it comes to a threat beyond Ukraine's borders, there's something very powerful standing in his way," he said. "That's article five of NATO, an attack on one is an attack on all."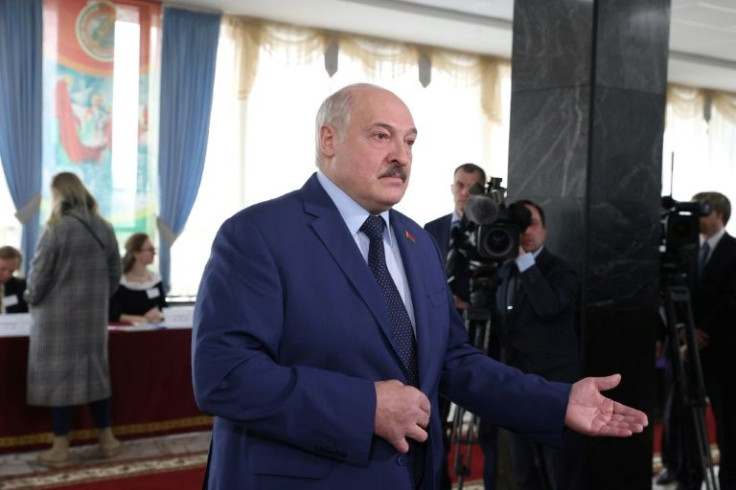 © Copyright IBTimes 2023. All rights reserved.