Russia Rejects 'Unfounded' Accusations Of Civilian Deaths In Syria Airstrikes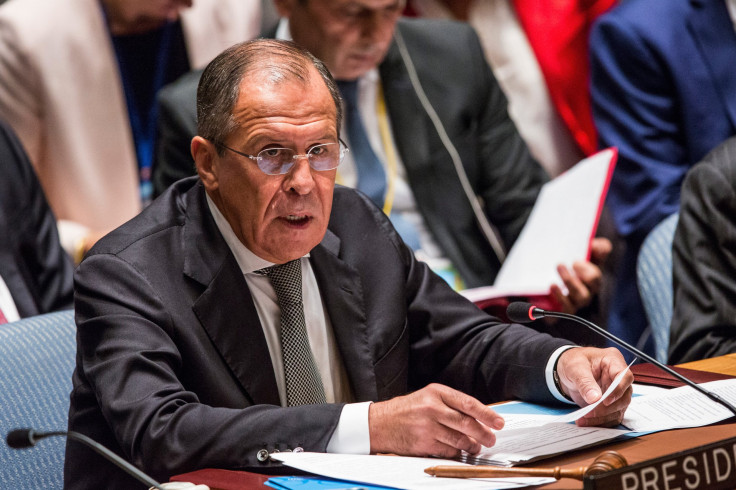 Reports that Russian warplanes in Syria are not targeting positions held by militants of the Islamic State group are "unfounded," Russian Foreign Minister Sergei Lavrov reportedly said Thursday. Lavrov's comments, made after Wednesday's meeting with his U.S. counterpart John Kerry, came in response to fears that Moscow's airstrikes in Syria were aimed at targets other than ISIS and had killed civilians.
"Talk began that civilians were hurt by airstrikes. We have no such data," Lavrov reportedly said. "We carefully make sure that these target strikes are precise."
Russia, which has long supported Syrian President Bashar Assad's bid to remain in power in the war-torn nation, launched airstrikes in the country Wednesday -- its first overseas military engagement in nearly four decades. However, while Lavrov said that Russia was "conducting an air operation with surgical strikes on ground targets of the terrorist group ISIS," U.S. and its allies expressed concerns that Moscow was, in fact, targeting Western-backed Syrian rebels fighting Assad.
"This is not the kind of behavior that we should expect professionally from the Russian military," U.S. Defense Secretary Ashton Carter reportedly said during a Pentagon press conference Wednesday, adding that Moscow's actions were "tantamount to pouring gasoline on the fire."
Khaled Khoja, leader of the Syrian National Coalition -- the country's main opposition group -- also denounced the airstrikes, which, he said, killed 36 civilians in areas free from ISIS or al Qaeda control.
However, Lavrov asked the U.S. government to provide evidence supporting the accusations.
"They expressed doubt, arguing that there is evidence, which we asked to show us, because we stand by our target," Lavrov reportedly said.
On Wednesday, Lavrov and Kerry agreed on the need to hold military-level talks "as soon as possible" to avoid clashing in Syria.
"We agreed on the imperative of as soon as possible -- perhaps even as soon as tomorrow, but as soon as possible -- having a military-to-military de-confliction discussion," Kerry said during a joint press conference following a meeting at the United Nations headquarters in New York.
© Copyright IBTimes 2023. All rights reserved.