Russia Says It Foiled Terrorist Plot Targeting Winter Olympics Host City Sochi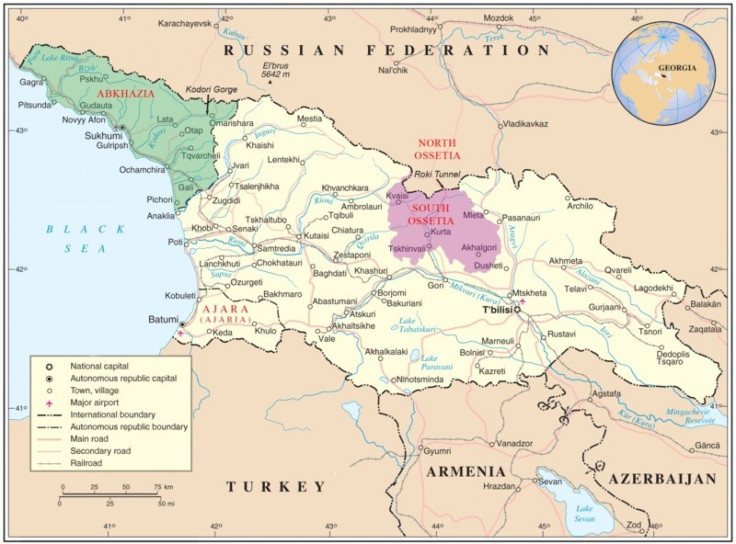 Russian authorities claimed Thursday that government intelligence agents foiled a terrorist plot targeting Sochi, host city of the 2014 Winter Olympics, seizing caches of arms and ammunition in the Georgian breakaway territory of Abkhazia earlier this week.
Russia's National Anti-Terrorist Committee (NAC) said the country's secret service agency FSB, in a joint raid with Abkhazian operatives, uncovered 10 stockpiles of weapons and ammunition on May 4 and May 5 in the disputed territory, which broke away from Georgia in 2008 and whose border lies only a few miles from Sochi.
Among the weapons claimed to be seized were mobile surface-to-air missiles, rocket launchers, flamethrowers, rifles, grenades, TNT and other explosives, the Associated Press reported. Three people were also arrested in the raid, according to Russia Today, though no other details were provided.
The FSB, whose director heads the NAC, suspects Chechen rebel leader Doku Umarov of devising the plot with assistance from the Georgian government, an allegation which Georgia denies.
I can only say that the National Anti-Terrorist Committee is staffed with people with peculiar fantasies, Shota Khizanishvili, chief of staff at Georgia's Interior Ministry, told AP. They're always trying to accuse Georgia and its secret services of everything in any situation and without any grounds. This is a sign of a severe paranoia.
Khizanishvili denied any connection between Georgia and Umarov, who has claimed responsibility for the 2011 Moscow airport bombing that killed 35 people and previously tried to establish an independent Islamic state in the Russian territory of Chechnya, which shares a border with Georgia.
Russian authorities claimed that Umarov arranged for the weapons to be delivered to Abkhazia, which would be smuggled into Sochi between 2012 and 2014 in order to use them during the preparations and during the games, AP reported.
Russia and Georgia engaged in a brief but heated war in August of 2008 when Abkhazia declared itself an independent state along with another territory, South Ossetia. Russia sent troops into Abkhazia and South Ossetia and after less than two weeks of intense fighting with the Georgian military, a peace agreement was brokered and Abkhazia and South Ossetia gained de facto independence from Georgia.
Abkhazia and South Ossetia remain disputed territories, recognized by only a handful of countries including Russia, Nicaragua and Venezuela. The U.S. and E.U. condemned Russia's military support of Abkhazia and South Ossetia as an invasion of sovereign Georgian territory.
© Copyright IBTimes 2023. All rights reserved.