Russia Says Putin-Obama Talk On Syria Not Enough To 'Overhaul Bilateral Relations'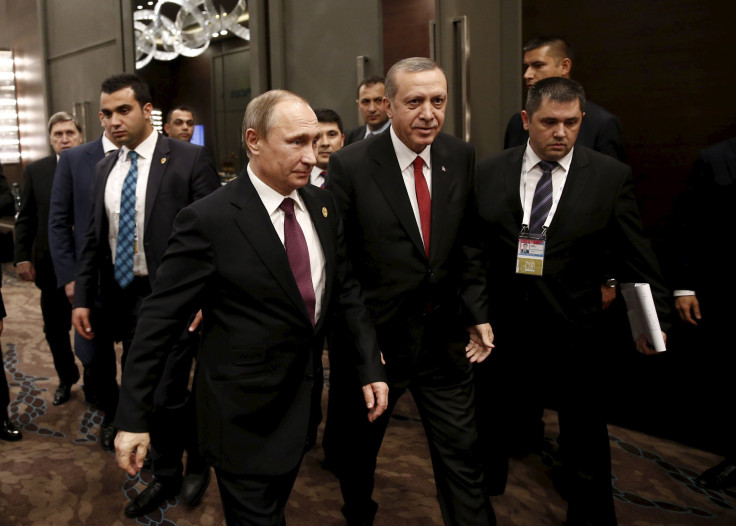 After U.S. President Barack Obama and Russian President Vladimir Putin held an informal discussion Sunday on the sidelines of the G-20 summit in Turkey, Russian officials said the talk was constructive but would not result in an immediate change in bilateral relations, Russian state media reported Monday. Russia and the U.S. have long been at odds over the civil war in Syria, with Moscow supporting President Bashar Assad and Washington calling for Assad's removal.
"It would be absolutely unrealistic to expect a 20-minute meeting might herald a U-turn in bilateral relations," said presidential spokesman Dmitry Peskov, according to the Russian news service Tass. "These relations are what they are. So are the disagreements. But there is also the understanding the Russian-U.S. dialogue has no alternative. That's a hard fact."
After the Friday night attacks in Paris, world leaders at the summit turned their attention to global security. Russia began airstrikes in Syria in late September, saying it would target the Islamic State group, also known as ISIS, but the strikes have also targeted rebels fighting Assad.
While both the U.S. and Russia say they want to eliminate ISIS as a global threat, many tactical differences remain.
"I don't see this [the attacks in Paris] resulting in a change in underlying policy and the level of cooperation," said James F. Collins, a former U.S. ambassador to Russia and senior associate at the Carnegie Endowment for International Peace, a research institution in Washington, speaking with International Business Times. "There is a certain amount of hostility and distrust about what is happening in Syria."
Leaders agreed to a timeline peace plan for Syria over the weekend following talks in Vienna. They set Jan. 1 as the date for Assad and opposition forces to negotiate, creating a transitional government in six months and holding United Nations-supervised elections in 18 months.
Relations between Russia and the West have been increasingly tense ever since the U.S. and EU applied economic sanctions against Russia after the annexation of Crimea from Ukraine in March 2014. The sanctions coupled with low global oil prices have hit Russia's economy.
"It would be wrong to think that 20 minutes is enough to overhaul bilateral relations, but the conversation was constructive, indeed," Peskov said Monday.
Putin and Obama had not spoken in more than two years before having an informal conversation at the U.N. General Assembly in New York in September. The two leaders have had a frosty relationship.
© Copyright IBTimes 2023. All rights reserved.