Russia Suspends Tu-154 Flights After Black Sea Crash That Killed 92 People Aboard: Report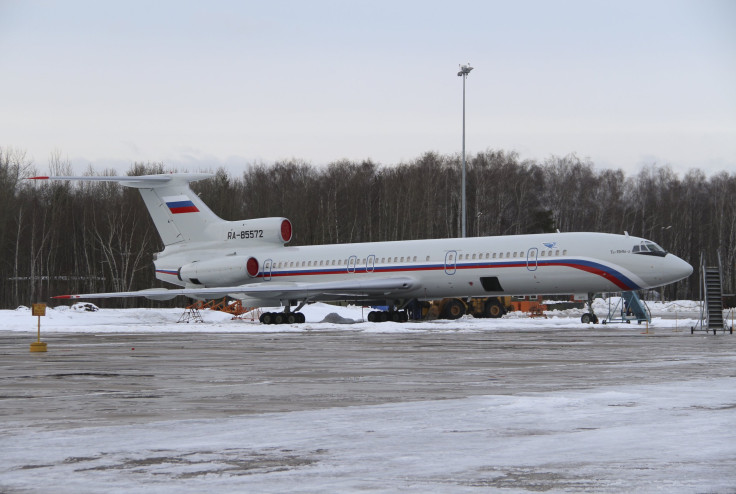 Russia has grounded all Tu-154 flights until authorities establish the cause of Sunday's plane crash that killed all 92 people aboard, Interfax news agency reported Tuesday, citing a source. Terrorism has been ruled out, but officials suspect technical fault or pilot error could have led to the accident.
The Tupolev Tu-154 is a three-engine plane designed in the late 1960s and entered service in the 1970s. The crashed plane was built in 1983 and underwent maintenance in 2014, according to the Russian defense ministry. The aircraft, belonging to the ministry, had 6,689 hours of flight.
Following the crash, the ministry said that the plane was flown by a class 1 pilot with over 3,000 hours of flying experience.
"The Tu-154 plane of the military and transport aviation of Russia's Defense Ministry was flown by experienced pilot Roman Volkov," the ministry said at the time.
The Tu-154 has been involved in a series of crashes. On Jan. 1, 2011, a Tu-154 plane operated by the Russian airliner Metrojet for its Kolavia Flight 348 caught fire and exploded at a Siberian airport. The Moscow-bound plane carried 124 people, of whom three were killed and 43 injured.
In 2010, a Polish Air Force Tu-154 crashed in western Russia killing then-President Lech Kaczynski.
In the latest crash, search and rescue teams have so far recovered 12 bodies and 156 body fragments. On Tuesday, one of the three black boxes was found in the Black Sea.
The plane was carrying a total of 84 passengers and eight crew members and was headed to Latakia province in western Syria for New Year's concert. Elizaveta Glinka — a prominent charity activist and humanitarian worker — was aboard the plane along with journalists from Russian broadcasters Channel One, Zvezda and NTV. Most of the passengers were members of the Alexandrov Ensemble, the official choir of the Russian Armed Forces.
© Copyright IBTimes 2023. All rights reserved.