Russia Targeting ISIS In Syria? Airstrikes Continue Into Second Day As Witnesses Claim Rising Civilian Toll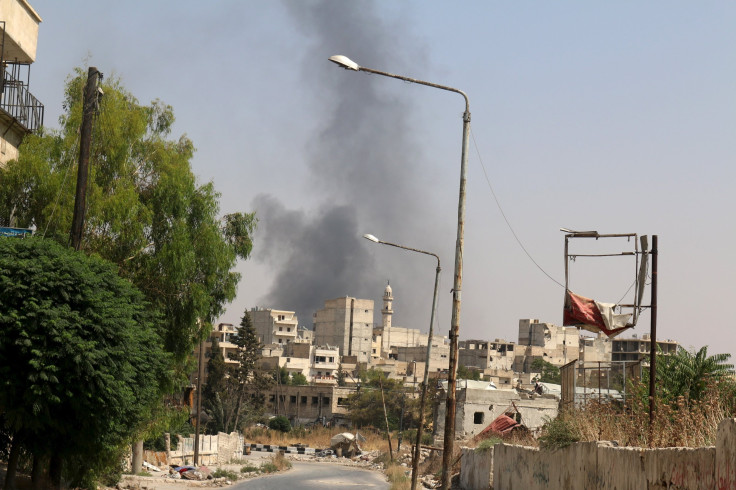 Russia has continued airstrikes in Syria, while a military campaign to boost embattled Syrian President Bashar Assad ran into its second day, various media outlets reported Thursday. Fresh strikes reportedly targeted rebel positions in the country's northwest, largely held by the Army of Conquest rebel group, Lebanon's al-Mayadeen TV said, according to BBC.
The new round of strikes came a day after Russia launched an airstrike campaign in the Homs and Hama provinces, areas where Assad's government has faced heavy resistance. Although Russia said it would target positions in the country held by the Islamic State militant group, also known as ISIS, the areas their military have targeted are held mostly by other rebel groups, including non-ISIS foes of the Syrian president -- some of whom were supported by the United States.
Russia's defense minister claimed overnight strikes targeted ISIS positions and were "strictly avoiding populated areas," the Telegraph reported. Witnesses in the besieged area of northern Homs countryside, however, said airstrikes have injured at least 100 civilians.
"All civilians, I saw them," Abu Ahmed, a doctor working in a local field hospital, told International Business Times.
U.S. Defense Secretary Ashton Carter said Wednesday that ISIS did not appear active in areas hit by Russian airstrikes. The Institute for the Study of War, a Washington-based think tank, said local Syrian sources said the airstrikes targeted rebel positions, including the headquarters of the Free Syrian Army-affiliated, Western-backed al-Izza group.
Russian action in Syria has increased tensions between Washington and Moscow, just days after U.S. President Barack Obama met with Russian President Vladimir Putin for the first face-to-face discussion in two years. While the U.S. has insisted both Assad and ISIS must be removed from power as part of a solution to the Syrian crisis, Russia has insisted that Assad is critical in the fight against extremism.
A spokesperson for the Russian army, Dmitry Peskov, said military operations in Syria would continue for as long as the Syrian army was on the defensive, CNN reported.
Alessandria Masi contributed to this article.
© Copyright IBTimes 2023. All rights reserved.