Russia Tries To Hack Ukrainian TV Channels To Spread Fake News, Gets Blocked
KEY POINTS
Ukraine intelligence said Russians attempted to gain access to live video streams, live news feed
It did not release details about the individual or group responsible for the attack
The SSU warned that Russia could attempt to hack Ukrainian TV channels again
The Security Service of Ukraine (SSU) announced that it has successfully prevented Russians from hacking into Ukrainian TV channels to spread fake news about the war.
The SSU said Russians attempted to gain access to live video streams, live news feed and computers belonging to Ukrainians working with news content for Ukrainian channels. The agency noted that the attack, which occurred Tuesday evening, could happen again. However, the SSU did not release details about the individual or group responsible for the attack.
"Cyberattacks are part of Russia's purposeful efforts to influence Ukrainian information space, spread fakes and wage a hybrid war," the agency said in a report. "The SSU will continue to make every effort to protect Ukraine in cyberspace."
The cyberattack comes a day after a Russian missile strike hit a crowded shopping mall in the city of Kremenchuk in the Poltava region. As of Tuesday, firefighters reported finding 18 bodies in the rubble. Several of the corpses found were burned beyond recognition.
Russia has denied hitting the shopping mall, saying that it was targeting a nearby depot where weaponry from the West was stored. Russia argued that the explosion at the depot caused the fire in the mall.
"In Kremenchuk, Russian forces struck a weapons depot storing arms received from the United States and Europe with high-precision air-based weapons," Russia's Defense Ministry said in a statement. "The detonation of stored ammunition for Western weapons caused a fire in a non-functioning shopping center located next to the depot."
Ukrainian President Volodymyr Zelensky said it is estimated that there were more than 1,000 people inside the mall when the missiles struck.
Zelensky later addressed the UN Security Council and called for Russia to be removed as a permanent member of the group, arguing that the Kremlin has targeted areas with civilians several times since last Saturday.
Since the war began in February, Russian forces have killed 4,731 Ukrainian civilians -- including 4,401 adults and 330 children -- and injured 5,900 civilians, according to estimates from the Office of the UN High Commissioner for Human Rights.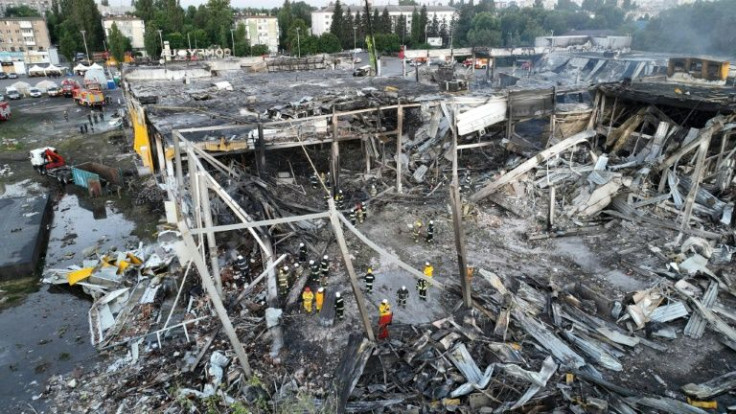 © Copyright IBTimes 2023. All rights reserved.