Russia And Trump News: US, Russia Military Generals To Meet In Azerbaijan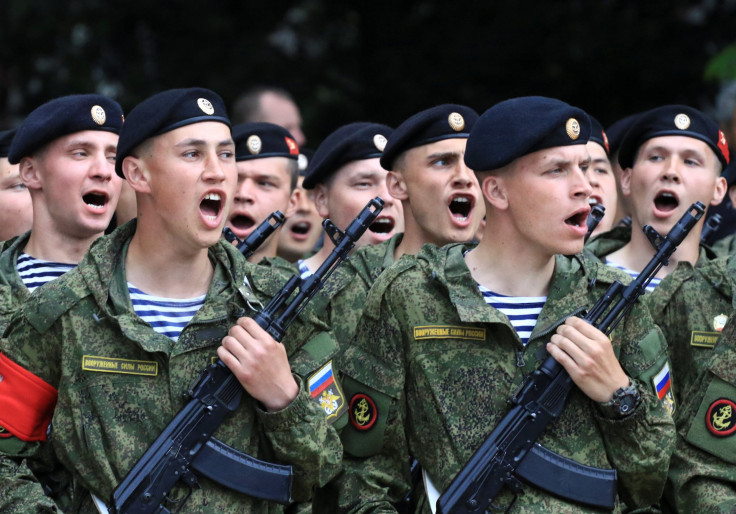 U.S. Marine Corps General and Chairman of the Joint Chiefs Joseph Dunford will meet with the chief of the Russian General Staff, Valery Gerasimov, on Thursday in Azerbaijan, the Pentagon said Wednesday. This is the first meeting between the military heads of the two countries since Russia annexed Crimea in 2014.
"The military leaders will discuss a variety of issues including the current state of U.S.-Russian military relations and the importance of consistent and clear military-to-military communication to prevent miscalculation and potential crises," the Office of the Chairman of the Joint Chiefs of Staff said in a statement.
Dunford and Gerasimov will meet in Azerbaijan's capital Baku. The meeting comes at a time when military relations of Washington and Moscow are strained. A Russian intelligence ship is currently present 30 miles off the eastern coast off the U.S. However, the Pentagon said the vessel is performing its routine activity.
Furthermore, Russia allegedly deployed a new cruise missile barred under the 1987 Intermediate-Range Nuclear Forces Treaty, according to a Tuesday report by the New York Times. The same day, reports also said that the U.S. European Command said Moscow's jets carried out unsafe fly-bys of a U.S. Navy destroyer in the Black Sea.
Dunford expressed concern about Russia's growing military buildup "from the nuclear enterprise modernization to their submarine warfare capabilities to their cruise missile development to their cyber capabilities to their space programs," according to Politico.
"I mean, for a nation that has demographic and economic challenges like Russia they have embarked on such a significant military modernization program," Dunford said. "The degree to which it is sustainable is another discussion but you know, they have embarked and now developed and fielded and demonstrated very real military capabilities."
Also, a White House statement said Tuesday President Donald Trump "expects" Russia to return Crimea to Ukraine. However, Moscow asserted that the Black Peninsula is a Russian territory.
"We do not return our territories. Crimea is Russian territory," Russian Foreign Ministry spokeswoman Maria Zakharova said Wednesday.
© Copyright IBTimes 2023. All rights reserved.