Russia-Turkey Gas Deal: Airspace Violations, Moscow Airstrikes In Syria Threaten Trade Agreement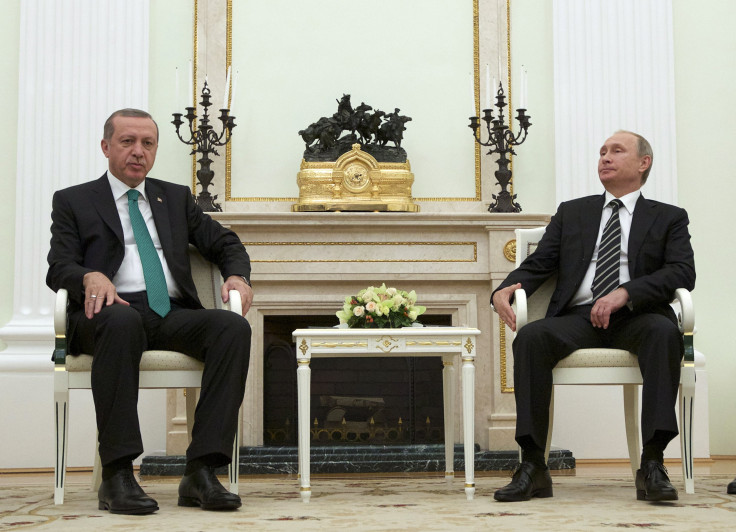 Moscow has attempted calm threats made by Turkey that it will abandon a trade deal to buy Russian gas after Kremlin jets infiltrated Turkey's airspace this past weekend. A Kremlin spokesperson said despite the violation of Turkey's airspace, which Russia claims accidental, Moscow values its relationship with Ankara in the region and wishes to carry on bilateral relations, according to a report by Russian news site Tass Thursday.
"We traditionally highly appreciate our bilateral relations with Turkey; we sincerely hope that these relations will continue to develop further in accordance with the plans outlined by [Russian] President Putin and [Turkish] President Erdogan," Russian presidential spokesman Dmitry Peskov said to reporters in Moscow.
Presidents of both countries met earlier this month in Moscow where they announced that Russia and Turkey would attempt to create a $100 billion trade relationship by 2023. A $15 billion gas pipeline between the two countries and a $20 billion nuclear power station inside Turkey would be included, according to a report by Russia Today, which also noted that current trade between the two nations is around $32 billion per year.
Turkish Imports and Exports over Time | FindTheData
However, those deals now appear to be at risk.
Russian jets entered Turkish airspace on two occasions over the weekend -- allegedly both incursions were navigational accidents. In the aftermath, NATO said it seriously doubted Moscow's claims, while alliance-member Turkey also took issue with Moscow's gradual military buildup inside Syria and the way it has conducted itself militarily, suggesting that continued airspace violations could call into question economic relations between the two countries.
"Our positive relationship with Russia is known. But if Russia loses a friend like Turkey, with whom it has been cooperating on many issues, it will lose a lot, and it should know that," Erdogan told reporters in Brussels Tuesday, Reuters reported.
Russia began transporting troops and heavy weaponry into Syria in early September and commenced airstrikes against Syrian rebels and Islamic State group targets last week.
© Copyright IBTimes 2022. All rights reserved.
FOLLOW MORE IBT NEWS ON THE BELOW CHANNELS