Russia Ukraine War: Why Is Putin Invading Zelensky's Country?
KEY POINTS
Russia first invaded Ukraine's eastern region of Donbas in 2014
Russia previously demanded assurances that Ukraine will not join NATO and that it would become a neutral state
Ukrainian President Zelensky appealed to the Russian people to 'listen to the voice of reason'
Russian President Vladimir Putin has once again taken center stage as he authorized a special military operation in breakaway regions of eastern Ukraine.
Putin made the announcement in a special televised address on Russian state TV. Following this, explosions could be heard in Ukraine's capital Kyiv as well as other parts of the country. According to the Russian president, the military operation would "demilitarize and de-nazify Ukraine" but denied that it was an act of invasion.
Kremlin has placed as many as 190,000 troops in or near the borders of Ukraine in recent months, according to an assessment made public last week by Michael Carpenter, the U.S. ambassador to the Organization for Security and Cooperation in Europe (OSCE).
Why is Russia sending troops to Ukraine?
Russia first invaded Ukraine in 2014 and occupied Crimea. Rebels backed by Putin also captured big swathes of land in the eastern region of Donbas. Since then, Ukrainian troops have had skirmishes and they fought against pro-Russian separatists.
But the "Minsk agreements" that were brokered by France and Germany were never really implemented on the ground. The accords called for Ukraine to grant the pro-Russian territories special status and for Russia to recognize the region as Ukrainian territory. Both countries also disagreed with this term.
Ukraine's government said it was negotiated with a gun to its head to justify the non-implementation. And that has served as cover to Putin and buttressed his argument that ethnic Russians were being discriminated against by Kyiv while the West looked on.
Ukraine also wanted to be allowed into the North Atlantic Treaty Organization (NATO), essentially raising the prospect of what Russia has historically viewed as its buffer state and would become a space to house weapons trained against Moscow. Putin asked NATO to give a guarantee that Ukraine will not be allowed into the alliance but President Biden and NATO refused, saying such a guarantee stood against the principles of the treaty.
Russian state media has repeatedly blamed the Ukrainian government and the West for the rising tensions in the breakaway Donbas region. The state media has also accused both Ukraine and the West of spreading misinformation toward Russian aggression and singled out the West for "ignoring" demands for Russia's security concerns.
What is Putin after?
The battle over Ukraine, which was a former Soviet state, could be a battle for influence and power. Under President Volodymyr Zelensky, Ukraine has been pivoting towards joining the European Union and the NATO.
Russia has long resisted Ukraine's move towards joining the European institutions, calling Ukraine "a puppet of the West." Additionally, Putin has sought to rebuild Russia's influence and power base. Acquiring Ukraine, as well as other former Soviet states, would give Kremlin a buffer state against Europe.
In December, Kremlin demanded the West and Ukraine assurances that it will not join NATO and would instead demilitarize and become a neutral state. Both demands were dismissed.
Prior to Putin's announcement of the military operation, President Zelensky appealed directly to the Russian people to "listen to the voice of reason," noting that his country wanted peace.
Russia's invasion of Ukraine could mark the first step in another invasion that could displace up to 5 million Ukrainians, U.S. ambassador to the United Nations Linda Thomas-Greenfield said Wednesday.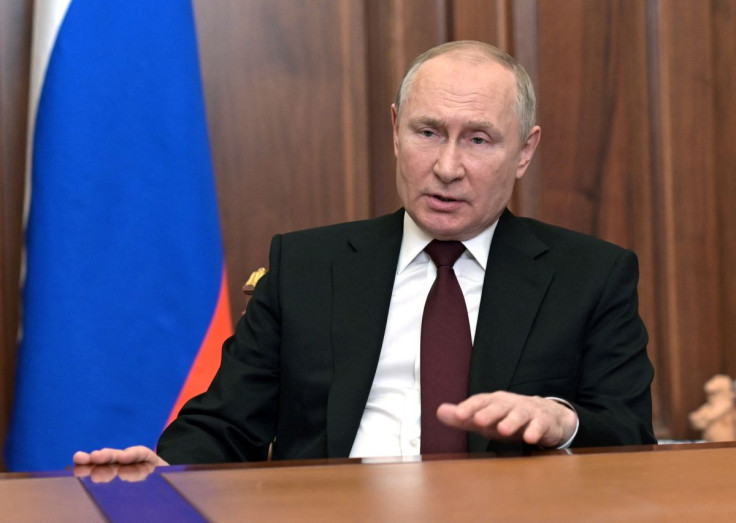 © Copyright IBTimes 2023. All rights reserved.