Russian Communists Build New Stalin Statue in Town Square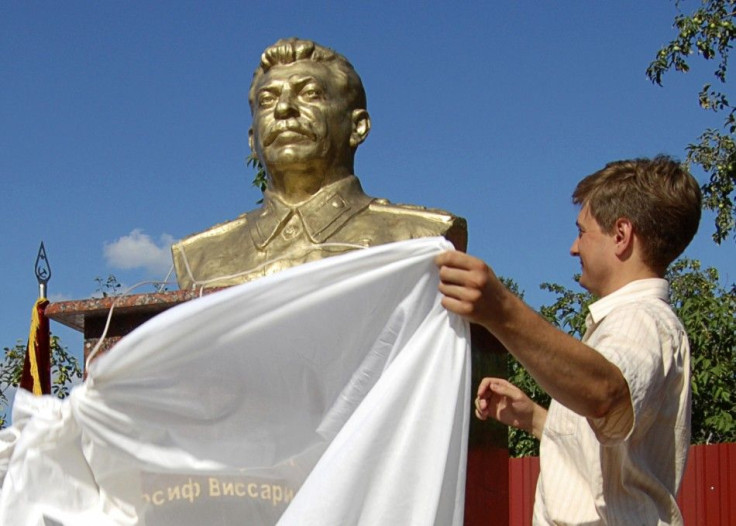 The Russian Communist Party have erected a golden-colored statue of former Soviet leader Joseph Stalin.
At party headquarters in the city of Penza on Friday, current communists and former World War Two soldiers gathered for the unveiling of the bust. In recent years, numerous statues of Stalin have been put up in the country he once ruled.
Recently, the Moscow subway system remade Soviet-era nationalistic banners, displaying banners reading Stalin reared us on loyalty to the people. He inspired us to labour and heroism, to commuters.
Although the Soviet Union is long gone, there are still communists in Russia. The Communist party 57 seats in the 450 seats in the lower house of parliament.
Stalin is a controversial figure throughout the world, and considered a dictator by many in the West. He ruled Russia with a heavy hand between 1941 and 1953. There used to be statues of the leader all over Russia, but proceding premiers launched de-Stalinization campaigns and condemned the old boss.
I personally regard Stalin negatively; my family was affected during the years of repressions, Kirill Zastrozhny, heads of Panza's association for the protection of monuments and culture, told RIA Novosti. However, he was a prominent statesman. As civilized people, we should treat the inauguration of Stalin's monument calmly.
Stalin's regime is said to be responsible for a total of three million deaths. Six million more people died during famines often considered part of Stalin's repression. Nonetheless, 45 percent of Russians feel that Stalin had an over all positive impact on the nation, while 35 percent feel his role was negative. The leader was named Russia's third most popular historical figure in a 2008 poll.
© Copyright IBTimes 2023. All rights reserved.