Russian Defense Manufacturing Hits New High As China, India Take Advantage Of Moscow's Affordable And Advanced Technology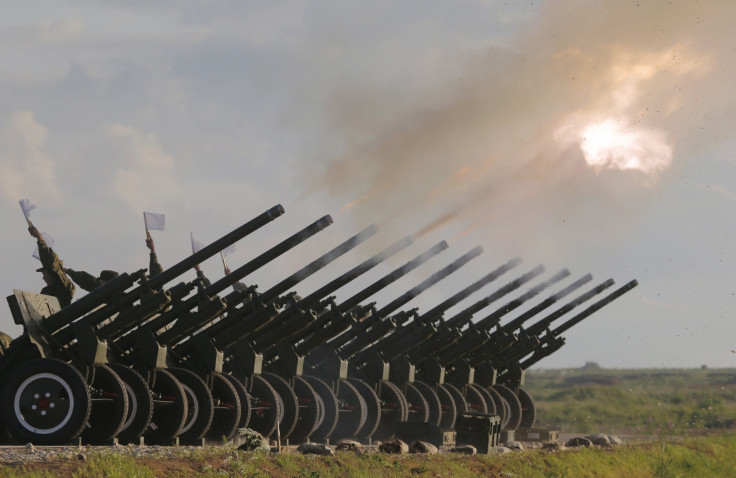 In the war-torn streets and fields of Syria and eastern Ukraine, used Russian bullets and heavy artillery shells litter the landscape, showcasing the strength of an increasingly advanced Russian military. Both wars have in effect become advertisements for a Russian arms industry that has seen a dramatic sales increase over the last few years, according to new report from a European military think tank.
The annual report from the Stockholm International Peace Research Institute, released Monday, shows that sales of Russian weapons increased significantly in 2014 while Western sales dropped. Despite difficult economic conditions in Russia, its defense industry has taken advantage of major developing economies like India and China to offer competitive, technologically advanced weaponry at affordable prices. And for smaller countries that can't do business with the West for economic or political reasons, Russia has stepped up to offer transactions with a minimum of red tape, according to military analysts and experts.
"Russia's arms industry has always exported weapons, but this recent increase has a lot do with major investments that were made more than 10 years ago because of higher oil prices at the time," said Pieter Wezeman, a senior researcher on the Arms and Military Expenditure Program at the Stockholm think tank. "The direct benefit of that is that Russia has been able to develop successful military technology that has made the arms industry stronger and more attractive to potential buyers."
Investment Yields Results
Those investments are now clear for all to see. The revenues of 11 major Russian defense contractors grew by 48.4 percent in 2014, year on year, making up 10.6 percent of total global arms sales, according to the report. Anti-aircraft missile system manufacturer Almaz-Antey remained the biggest Russian defense contractor in 2014, boosting arms sales by $800 million above 2013 levels to $8.84 billion in 2014. The company currently sits 11th in the world's biggest defense companies, a list largely dominated by U.S. manufacturers.
The popularity of Russian weapons in recent years has come as a direct result of Moscow realizing in late 2000 that its own military sector was in decay and still effectively operating in Soviet times, a realization that came after Kremlin troops invaded Georgia in December 2000, according to Wezeman. Despite winning that war, commanders noted that Russian soldiers were underequipped and their weapons were old and faulty. "It was very clear to them that they had to invest, and they did so," said Wezeman.
In 2011, Russia committed to investing 20 trillion rubles ($350 billion) through 2020. While this estimate was based largely on high and stable oil prices at the time, which topped more than $100 a barrel, Moscow has been able to maintain spending in spite of a crash in oil prices to below $40 a barrel in 2015 and Western-imposed financial sanctions over Russia's involvement in the Ukraine war.
Russia's Competitors
Russia has become the world's third-biggest arms exporter, contributing a little over 10 percent of the world total, but it is still in the shadow the U.S., which makes up more than half of global sales. The U.K. is second with 10.4 percent of the total.
But those figures are moving in Russia's favor. U.S. companies' arms sales decreased by 4.1 percent from 2013 to 2014, which is similar to the rate of decline seen in 2012–13, according to the SIPRI report. One American company bucking the downward trend is Lockheed Martin, which has held first place in the top 100 defense manufacturers since 2009. Western European companies showed a decrease of around 7.4 percent overall, with only German and Swiss contractors recording gains of 9.4 percent and 11.2 percent respectively.
The reason for this decrease, said Dakota Wood, senior research fellow for defense programs at the Heritage Foundation, a Washington think tank, is primarily bureaucratic. "Whenever you sell a weapon system to somebody else, it takes on a political dynamic that rests heavily on the relationships between the selling country and the buying country," said Wood. "For example, what signal does a potential sale send to U.S. friends or competitors in a disputed or disruptive region?And what restrictions does the U.S. government place on that country?"
This is one reason the U.S. doesn't sell to Iran, because it would upset its Saudi and Israeli allies. A working example is the recent U.S. sale of weapons to Taiwan, which prompted objections from China, as usual.
But Wood said that while political restrictions and higher costs have perhaps hampered U.S. and European sales to certain regions, Russia is less concerned about the ethical dilemmas or the bureaucratic process involved. "It's much easier for Russia to make sales than the U.S. It doesn't have the same political issues to think about. Plus, Russia's economy needs everything it can get right now."
While it's difficult to compare prices for U.S. and Russian weaponry given that many deals include different levels of maintenance, training and additional equipment, a like-for-like comparison is possible. For example, the U.S. F-22 stealth fighter, which was introduced into service in 2005, comes in at around $150 million per unit. The Russian equivalent, the Sukhoi T-50, which is due for introduction in late 2016, will come in at just $50 million. For countries without big spending power, it's clear why Russian weapons and the process required to get hold of them is attractive for many.
Russian Military Expenditure Over Time | FindTheData
Russia's Future
Over the last few years, Russia has become the main weapons supplier to the likes of China and India, bringing in upwards of $17 billion from the two Asian giants alone, according to the SIPRI report, even though India is also making modest buys from the U.S. Aside from India and China, Moscow has also become the showroom for nations that have dubious human rights records and are dictatorships or at best intermittent democracies, such as Syria, Belarus, Iran, Azerbaijan, Kazakhstan, Uganda and Venezuela, to name some of the countries that spend the most in Russia. "There are cases where Russia is selling to places where the competition is limited and where the U.S. and European suppliers are not willing to go," said Wezeman.
Earlier this year, Russia signed a deal to sell its S-400 advanced missile defense system to Iran before sanctions on military sales were lifted under the nuclear deal. The move caused outrage in Israel and the U.S., with both governments accusing Moscow of destabilizing the Middle East. While further sales in 2015 to Belarus, China, India and Algeria have brought in substantial revenue, it's not yet clear if Russia will keep arms exports growing at the current rate.
"I don't think there will be a major increase in the immediate future; I think it will be remain stable," said Igor Sutyagin, an expert in Russian military arms control at the Royal United Services think tank in London. "But probably in about five years' time we will see a substantial increase because there will be new weapons systems cleared for export."
© Copyright IBTimes 2022. All rights reserved.
FOLLOW MORE IBT NEWS ON THE BELOW CHANNELS