Russian Dissent Grows Louder As World Mourns Loss Of Flight MH17 Victims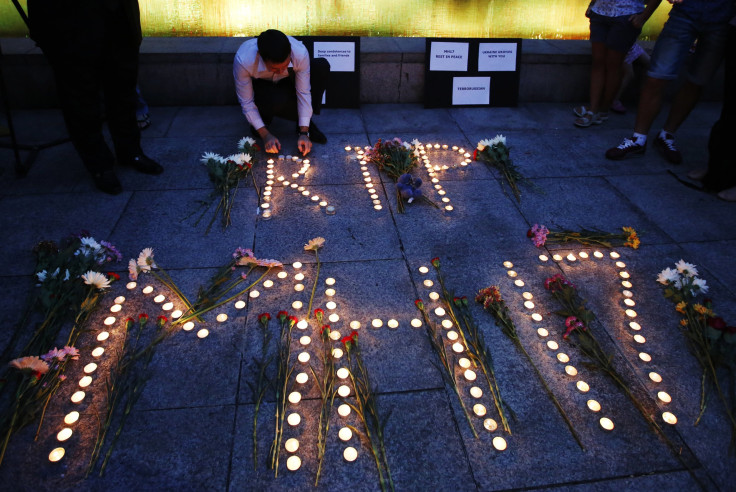 Novaya Gazeta, a Russian newspaper known for being a vocal critic of the Kremlin, seemingly held Moscow responsible for the crash of Malaysia Airlines Flight MH17.
The newspaper, on its cover page Friday, carried a photograph of a row of hearses transporting bodies of Dutch nationals killed in the crash. And, a headline accompanying the photograph said: "Forgive us, Netherlands."
Of the 298 people killed in the crash last Thursday, 193 were Dutch citizens.
Novaya Gazeta, started in 1993, is partly owned by former Soviet President Mikhail Gorbachev.
Pro-Russia rebels have been widely accused of shooting down the plane over eastern Ukraine, killing all 298 people on board. While the rebels in the region have denied having access to a Buk surface-to-air missile system -- which was allegedly used to bring down the aircraft -- Alexander Khodakovsky, commander of the self-proclaimed Vostok Battalion, told Reuters on Wednesday that pro-Moscow militants did, in fact, possess the anti-aircraft missile.
He also claimed that the missile launcher had been hidden by soldiers of the Donetsk People's Republic -- one of the leading pro-Russia separatist groups -- following the attack.
American intelligence officials have analyzed communications between Ukrainian rebels, photographs and social media chatter to determine Russia's involvement in the downing of the Malaysia Airlines plane, the Wall Street Journal reported Tuesday, adding that an SA-11 anti-aircraft gun fired from rebel-held territory probably brought down the aircraft.
While Russia has officially denied having any role in the attack, many people in Russia also seem to feel that the country has an element of responsibility, according to a CNN report. Many people have reportedly been lining up at a makeshift memorial outside the Dutch embassy in Moscow to pay their respects.
Meanwhile, investigators in U.K., working with Dutch aviation officials, have reportedly started analyzing information from the black box recorders retrieved from near the crash site.
© Copyright IBTimes 2023. All rights reserved.