Russian Military Drills Continue With Su-35 Flight Training, Heavy Weapons Exercises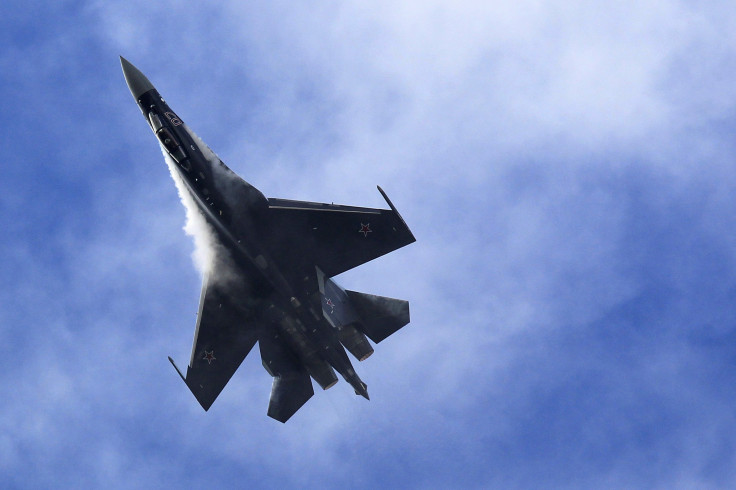 The Russian military mobilized more than 30 fighter jets, including its Sukhoi Su-35, as part of flight training conducted over its far eastern Primorsky Territory, state-controlled media said Thursday. Russia has conducted countless military drills in recent months amid rising tension with Western nations and the NATO military alliance.
The Su-35 "supermaneuverable multirole fighter" was the most advanced of three variations of Russian fighters that participated in the exercises, the Defense Ministry said. The Russian military used Su-25 fighters to stand in for enemy forces in simulated aerial combat. The training involves about 500 personnel and is to run through Saturday.
"Su-27 (Flanker) multi-function jets and MiG-31 (Foxhound) interceptor jets participated in air combat attacks against Su-25 (Frogfoot) jets simulating enemy aircraft," the Defense Ministry said in a statement, according to state-operated Sputnik News.
At the same time, thousands of miles to the west, the Russian troops conducted exercises with more than 30 types of weaponry in a breakaway region of Moldova, a former Soviet republic on Ukraine's western border. Russia has maintained a military presence in the separatist territory, known as Transnistria or Trans-Dniester, since 1992. Soldiers trained with grenade launchers and armored vehicles, according to the Associated Press. In the last year, Russia has annexed the formerly Ukrainian territory of Crimea and is accused of arming separatist rebels in eastern Ukraine.
Russia in recent months has extended bomber patrols from the Arctic to the Gulf of Mexico. Trade Minister Denis Manturov announced plans this week to increase bilateral trade with Thailand's military-run government. The expanded military cooperation may include the sale of military equipment, he said.
The United States, European Union and Ukrainian government all have expressed concern with Russia's recent increase in military activity. Wesley Clark, the former NATO supreme commander, warned in late March that Russia could direct a new offensive in eastern Ukraine within 60 days. A shaky ceasefire between Russian-backed separatist rebels and Ukrainian government forces has been in place since February, but has been violated on several occasions.
© Copyright IBTimes 2023. All rights reserved.