Russian Military Expansion Continues With New Carrier Project, T-90 Tank Upgrades, Reports Say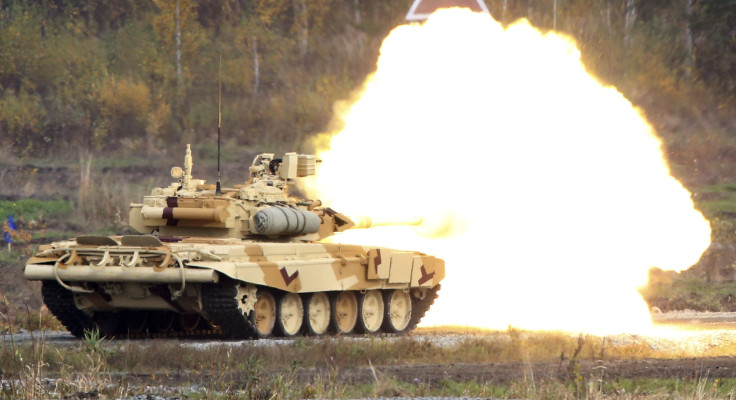 Russian government officials touted the development of a new helicopter carrier project and enhancements of the country's primary battle tank at the nation's Army-2015 military expo this week. The developments were the latest sign of the Kremlin's ongoing bid to expand and upgrade the Russian military.
The Kremlin-run Krylov State Research Center has created plans for a new Russian helicopter carrier called the Lavina, which is larger than France's Mistral carrier, according to an unnamed official cited by the government-owned Sputnik News. Russia has sought an alternative carrier project since Paris canceled a $1.5 billion deal to sell Moscow a pair of Mistral helicopter carriers late last year because of concerns over Russia's involvement in the conflict in eastern Ukraine.
"The Russian Krylov State Research Center has developed an alternative to the Mistral project of a helicopter carrier, called the Lavina, with a water displacement of 24,000 tons, which is even larger than the French-made ship [of 21,000 tons]," the official said. The Lavina helicopter carrier can travel at a maximum speed of 22 knots and carry as many as 500 troops or 50 military vehicles, as well as its 320 crew members, the official said.
A day earlier, Russian Defense Ministry representatives touted upgrades to the country's T-90 tank. The armored vehicle's future incarnations will feature turrets capable of firing shells faster than any Russian tank to date, Sputnik News reported, citing government representatives at the Army-2015 expo. Officials from more than 70 countries reportedly attended the expo, which began Tuesday.
Russian President Vladimir Putin pledged this year to spend more than 21 trillion rubles ($340 billion) to expand the country's military by 2020, Reuters reported. Recent developments in this area include the unveiling of the next-generation T-14 Armata tank in May and a so-called microwave gun purportedly capable of disabling airborne drones and warheads this month.
© Copyright IBTimes 2023. All rights reserved.
FOLLOW MORE IBT NEWS ON THE BELOW CHANNELS